Transitions
Print the page
Transitions Pop-up: Connect with Pro Bono Ontario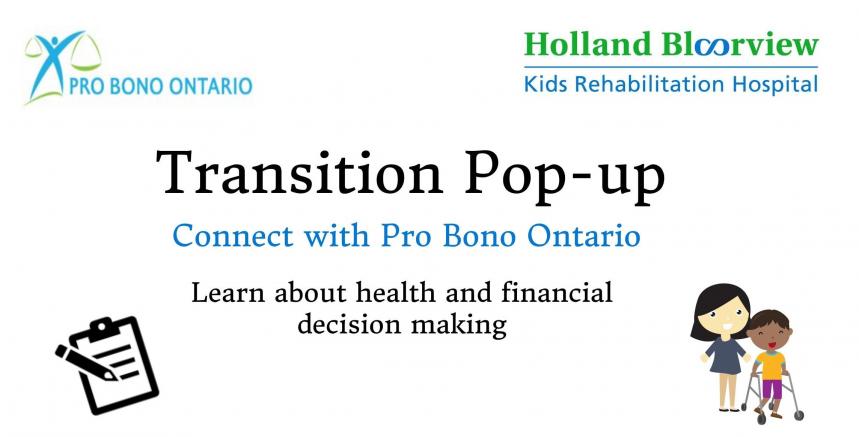 Join us for a virtual Transitions Pop-Up with Triage Lawyer, Elizabeth Legge, from Pro Bono Ontario and a Family Leader.
When? 
Thursday July 7th from 6:00-7:30pm
Who? 
Holland Bloorview youth with disabilities between the ages of 15-26 and their families
What? 
A Virtual Transitions Pop-Up event. Have questions about health and financial decision making when your child turns 18, guardianship, powers of attorney, wills and trusts, the RDSP and DTC?
Use tools to get started on creating a personalized transition plan with actionable steps.
Where? 
Zoom Healthcare platform
Why? 
The 90 minute session will include:
Hosted by Elizabeth Legge, Triage Lawyer
Overview of key topics (e.g. wills/trusts, finances (RDSP), government funding, (ODSP), capacity and decision making) using an individualized questionnaire
On-the-spot scheduling of a follow-up telephone call with Elizabeth Legge for a *free, personalized consultation to answer your family's specific questions and next steps
* Please note that Pro Bono Ontario does not provide free will drafting services*