As our No Boundaries strategic plan comes to an end in March 2023, we had the opportunity to reflect on the past five years as well as the current healthcare, scientific and academic environments to set our new priorities and define how we want to evolve as an organization. 
In October 2022, Holland Bloorview Kids Rehabilitation Hospital launched a highly engaging series of strategic planning activities called Campfires and Sparks, creating space for clients and families, staff, volunteers, students and external partners to share their insight and aspirations for the next strategic plan.
Overall, our engagement led to over 1400 touchpoints and a variety of rich and powerful feedback that is currently being reviewed, themed and translated into a strategic framework. From there, a final strategic plan will be created, brought to the hospital board of directors for approval and then launched in June 2023.
Thank you to everyone who shared their thoughts, insights and opinions. 
Read the full story of our strategic planning process and what some of our participants had to say about their engagement experiences here.
Our process
Together with our consultants at the Potential Group, we created a series of fun, engaging and interactive activities inspired by a camping theme. The majority of our engagement sessions took place between October 2022 and January 2023. These activities included large-scale, in-person and virtual engagement sessions (Campfires) and more targeted, and focused discussions (Sparks).
Watch this video to see more about the engagement process.
Read interviews with some participants about their engagement experiences.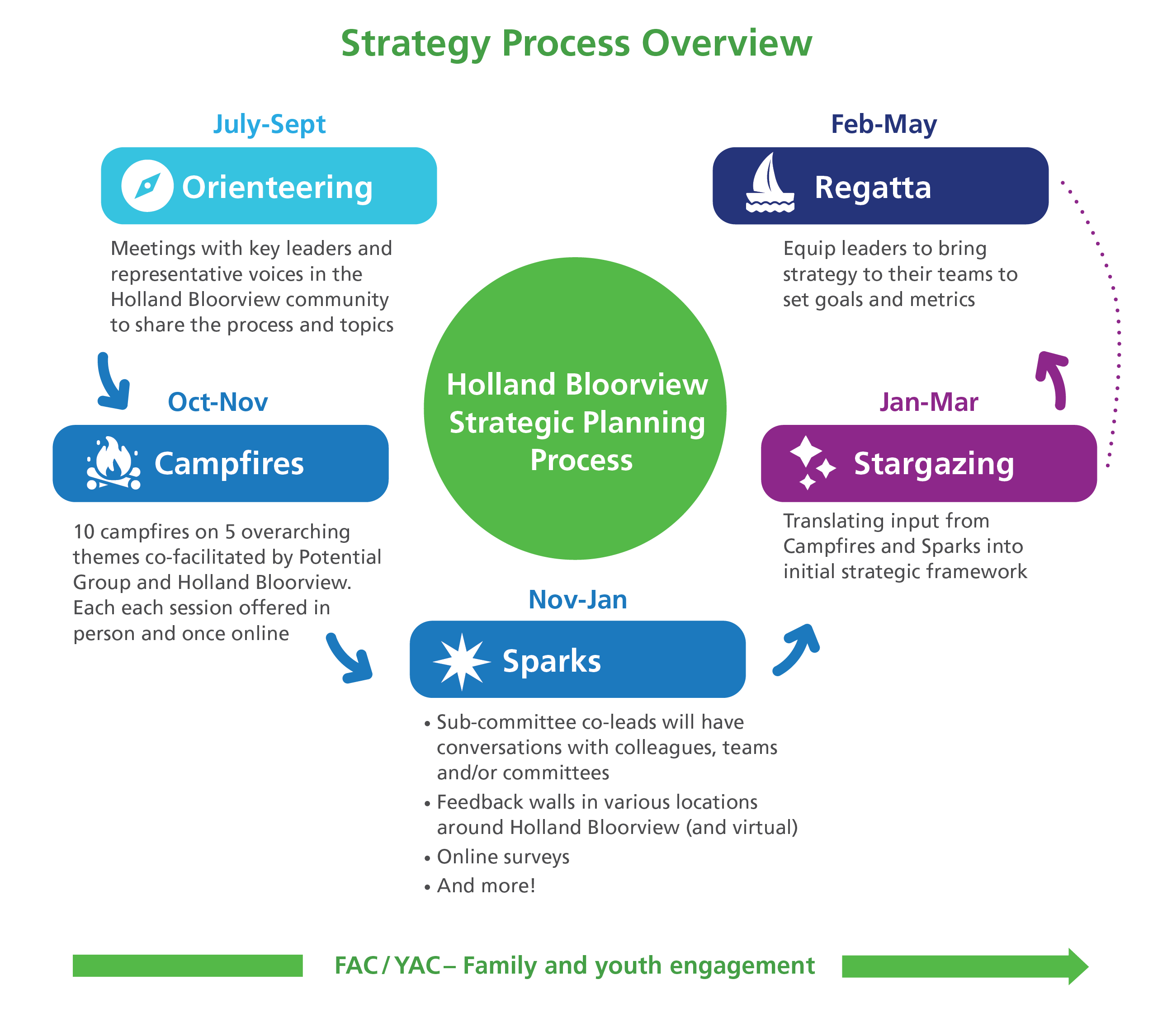 Description of image
Orienteering - July to September
Meetings with key leaders and representative voices in the HBKR community to share the process and topics
Campfires - October to November
10 campfires on 5 overarching themes co-facilitated by Potential Group and Holland Bloorview. Each session offered once in person and once online
Sparks - November to January
Sub-committee co-leads will have conversations with colleagues, teams and/or committees
Feedback walls in various locations around Holland Bloorview (and virtual)
Online surveys
And more!
Stargazing - January to March
Translating input from Campfires and Firestarters into initial strategic framework
Regatta - February to May
Equip leaders to bring the strategy to their teams to set goals and metrics
Our commitment
Throughout all strategy planning engagement activities, we commit to…
Create a safe, creative space to foster creativity, vulnerability, dialogue and risk-taking.
Listen, understand and ensure nothing is left unsaid. 
Learn together and create a restorative space for us to grow.
Build upon our learnings, collaborations and rich past to imagine future possibilities.
Commit to draw on the strengths, passions, expertise and experiences of our clients, families, staff and external partners. 
Renew our commitment to our clients, families and staff.
Make all events, accessible, inclusive and easy to get involved. 
Address not only what we want to add but also what we want to remove.