Pharmacy Services is responsible for the safe and effective use of medications at Holland Bloorview. Clinical pharmacists work closely with clients, families, and the healthcare team to optimize medication therapy through direct patient care. Registered pharmacy technicians utilize a computerized unit dose system to provide drug distribution services in a safe, accurate and timely manner. Investigational drug services are also offered to support clinical drug trials at Holland Bloorview. Finally, pharmacy staff actively provide academic teaching in partnership with universities and colleges, and provide drug information to both clients and healthcare providers.
Direct patient care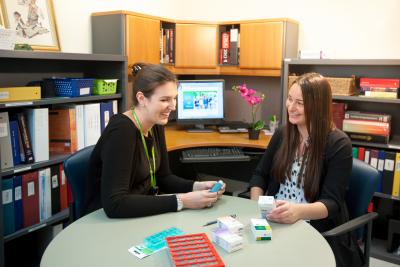 Services of clinical pharmacists working collaboratively with clients, families and the interprofessional healthcare team to optimize health outcomes, by identifying, preventing, and resolving drug-related issues.
Drug distribution
Services that provide medication procurement, preparation and distribution to inpatients and Special Access Drugs to outpatients in a safe and timely manner that meets all legal requirements.
Drug use management
Services that provide oversight, monitoring and reporting of medication use at Holland Bloorview to promote a safe, effective, efficient system, minimize the likelihood of medication error or harm, and support medication best practices.
Investigational drug services
Services that support clinical drug trials to produce high quality research that meets all regulations and guidelines.
Drug information and education
Services that provide drug information and continuing education to members of the interprofessional care team and students, including training of the next generation of experts in pharmacotherapy in pediatric rehabilitation.
Medication resources for clients and families

A new pediatric focused medication safety resource has been created to help children and youth learn what questions they should ask when they receive medication from their health team. 
5 Questions to Ask About My Medicine has been co-designed by children, caregivers, and providers to facilitate conversation during an appointment or patient consultation. An implementation guide is available for download to accompany the resource, for your reference. You can also access resources in other languages. Learn more about the ISMP Canada initiative.
Reference
Guirguis, L. M., Singh, R. L., Fox, L. L., Neufeld, S. M., & Bond, I. (2020). Medication Education Provided to School‐Aged Children: A Systematic Scoping Review. Journal of School Health, 90(11), 887-897. DOI: 10.1111/josh.12953