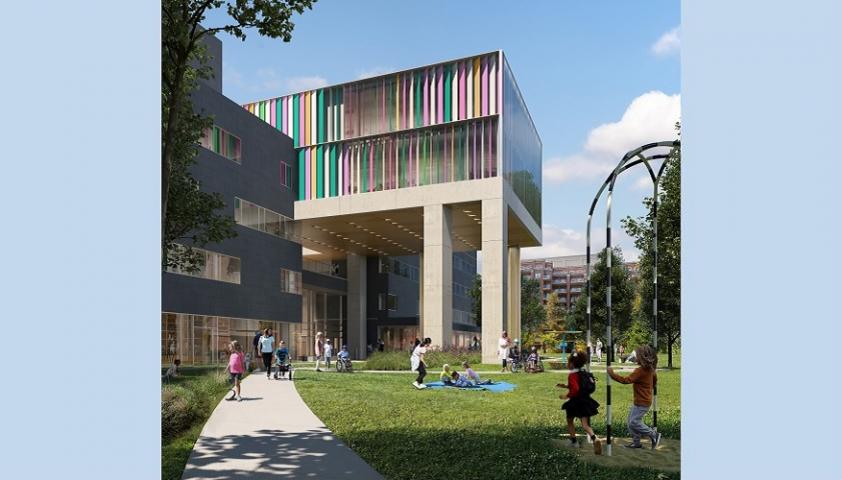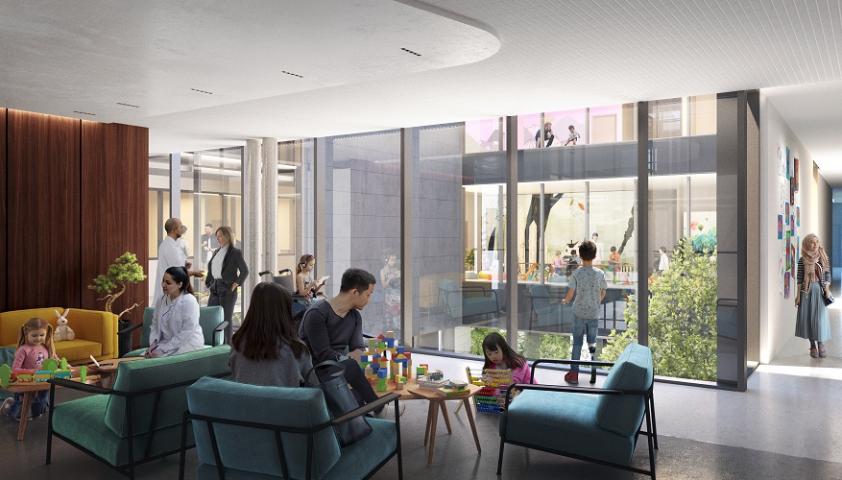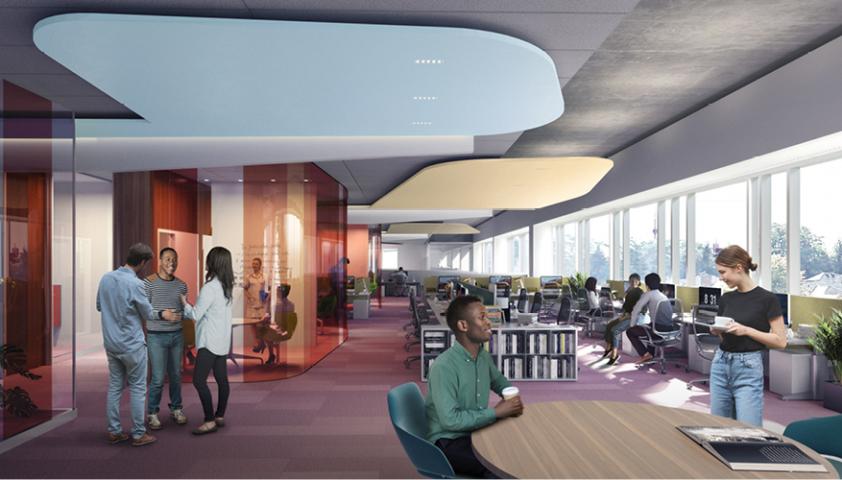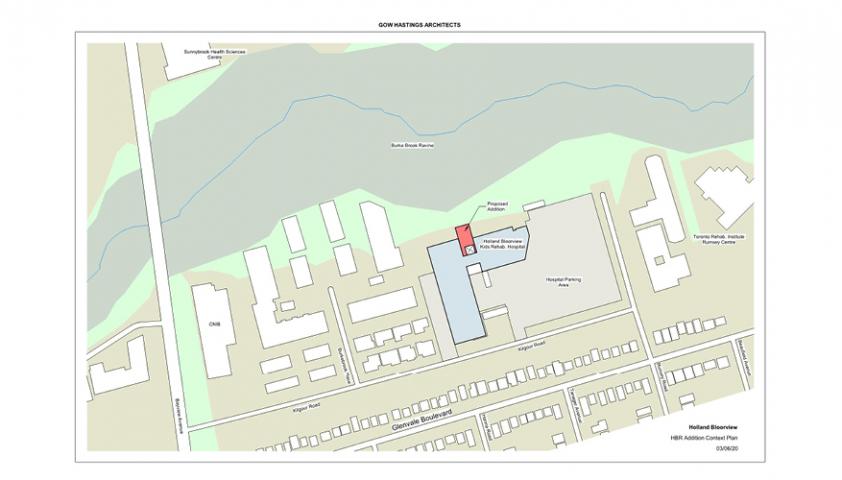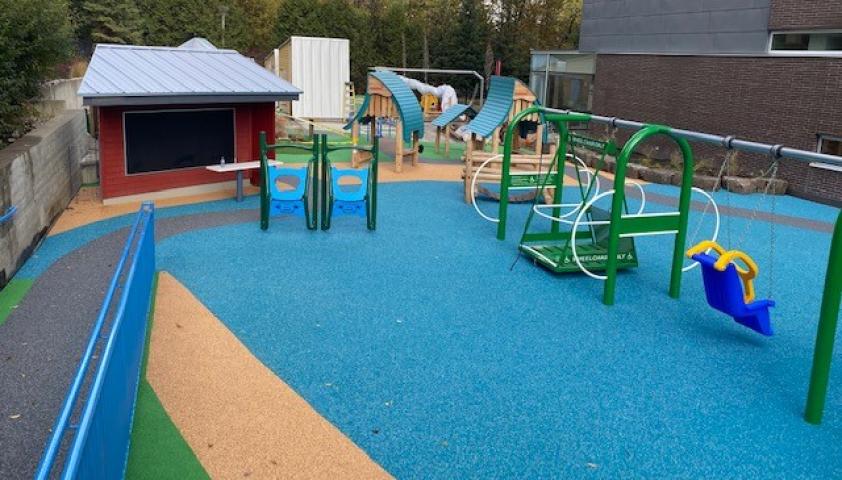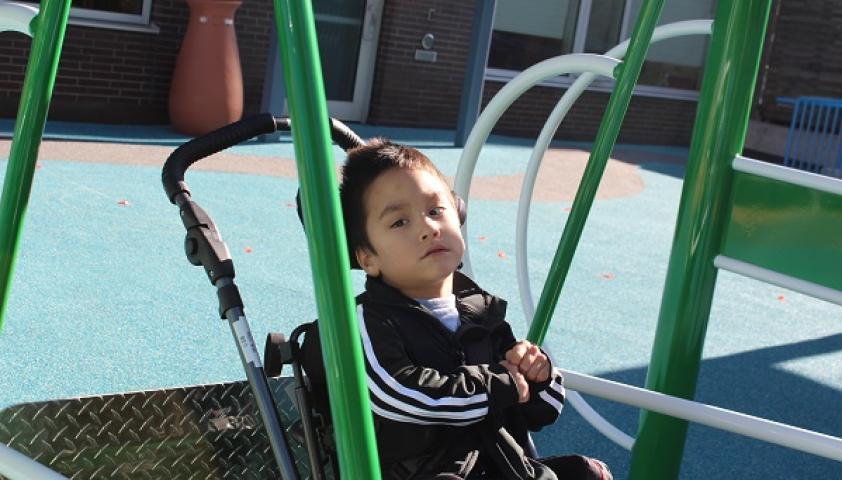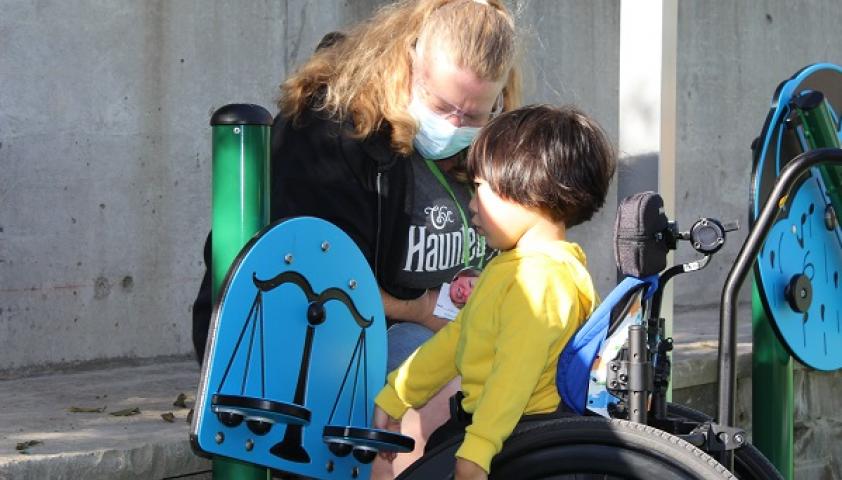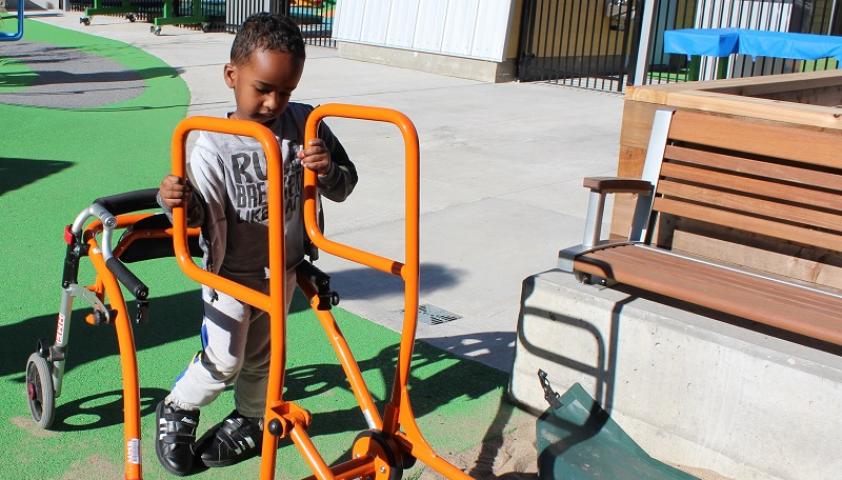 Holland Bloorview Kids Rehabilitation Hospital is growing its research institute to support ground-breaking research in childhood disability.
Once completed, the research expansion will feature private and teamwork spaces as well as discovery hubs. These hubs will give our scientists a chance to lead innovations in machine learning, music and arts, rapid prototyping among other fields. 
The project is designed to be very accessible and has followed all AODA guidelines. Accessible features include:
•    wider doors and hallways
•    door-operating devices in busy hallways
•    colour contrast between walls, floors and doors to help people with visual impairments get around
•    height-adjustable desks in workspaces. 
Sustainable features include:
•    using blinds to reduce sunlight
•    creating plenty of landscaped outdoor spaces
•    using natural materials with a low-energy footprint. 
This expansion will occur in three phases:
Phase 1: Playground construction [Completed]
In partnership with Bloorview School Authority and Kindercircle, and with the generosity of donors, Holland Bloorview has completed the construction of its state-of-the-art, fully accessible playground. Construction began in early June and finished in early November.
The inclusive playground was co-designed and co-created by a playground committee comprising clients and their families, teachers, clinicians, staff and volunteers – all with the vision of not only ensuring it met the highest standards of accessibility, but one that it also fosters wellbeing for children.
The new playground, nestled on the west side of the hospital, will give students from the Bloorview School Authority and the Kindercircle Daycare program as well as clients a chance to express their creativity through play. The playground features many accessible play structures such as a wheelchair swing, an accessible swing and slide, therapeutic play equipment, all surrounded by natural elements. Kids can also create music through various musical instruments and play panels scattered throughout the playground. The rubberized surface of the playground has also been coloured to mimic beaches, rivers, mountains and meadows for children to explore safely.
Watch the video of the virtual playground launch held on Nov. 23rd, 2020 .
Watch a video of our playground in action.
Phase 2: Fourth-floor renovation [Jan. to Sept. 2021]
 Bloorview Research Institute (BRI) has begun the second phase of the research expansion now.  Once completed this fall, The fourth floor where the BRI is housed will be transformed to create a more modern, open work environment with fewer hallways and walls that will provide more opportunities for both collaboration as well as individual work. This renovation work will continue for the next six to eight months. 
Take a virtual tour of this renovated space will look like for our researchers.
Since the renovation will be contained within the hospital, there will be very minimal impact to the surrounding community.  The institute remains operational with researchers and support staff working remotely. Some onsite research visits will still continue in other parts of the hospital on a temporary basis.

Please note all other units on the fourth floor (Teaching and Learning Office, all clinical areas) will remain open and can be accessed by the elevators. There will be little impact to outdoor parking spaces. 
Construction update (April 2021):
The province issued its third stay-at-home order effective April 8th, 12:01 a.m. However, all construction in the health-care sector is deemed essential and can continue. Since Holland Bloorview falls into this category, this research expansion can continue. An external elevator lift has been installed to bring construction crew members and materials to the BRI renovation site. Work continues on the BRI renovation site on the fourth floor of the hospital.
Phase 3: Two-floor expansion [ Spring 2021 projected start date]
Beginning this spring/summer, an approximate 11,000 square foot expansion will create more space for new discovery hubs, research teams and state-of-the-art research equipment.
The elevated two-storey expansion on the north side of the hospital will overlook the surrounding ravine, enhancing views of the landscape and creating more natural light. The exterior will be decorated with multi-coloured fins. Raised three-stories into the air, the underside of the addition will form a brightly light canopy for clients, families and the Holland Bloorview community to enjoy.
The expansion connects to the Bloorview Research Institute (BRI) by a 'front porch'-- a welcoming space where researchers, clients, families and staff can mingle, collaborate and share knowledge.
Construction update (April 2021):
Site preparation on the north side of the hospital has begun for the construction of the two-storey addition later this spring. More details will be provided as soon as it is available. 
Information Session for Kilgour Residents: April 15th
An information session and construction update was held for Kilgour residents on April 15th on the two-storey addition that will be built on the north side of the hospital. For those residents who were unable to attend, they can watch the information session here.
Approvals process
Holland Bloorview submitted an application to the City of Toronto in January 2020 to build a new two-storey addition on the north side of the hospital. In fall 2020, the hospital received approval to move ahead with the expansion.  Once the appropriate building permits are in place, construction will begin this spring.
As the construction process unfolds, we will hold open houses/tours and post online updates to ensure you have the latest information on our progress.
 
Construction during a pandemic
Construction during the COVID19 pandemic will be conducted thoughtfully and carefully to ensure the safety of our clients, staff, community and onsite construction workers. Buttcon Construction Limited, the construction manager for this project, has implemented robust COVID19 safety policies including personal protective equipment, sanitization, screen and physical distancing. They, along with our hospital's Infection, Prevention and Control team, will be actively monitoring the construction site to ensure all safety protocols are being followed.
Holland Bloorview will continue to monitor the situation and make the necessary decisions and required changes to our work, depending on how the pandemic unfolds. We are committed to keeping our community and the surrounding Leaside neighbourhood informed during the entire construction period.
Have questions? Connect with us:
Holland Bloorview is committed to keeping its community and surrounding Leaside neighbourhood informed about its proposal plans, approvals process with the City of Toronto and during the entire construction period.
Building details
Address: 150 Kilgour Road (Google Map)
Construction start: Spring 2021 (anticipated) | Completed:  Late Fall 2022 (anticipated)
Project team
Project team by role and provider

| Role | Provider |
| --- | --- |
| Holland Bloorview Lead | Nadia Tanel, Director, Research Growth and Expansion |
| Project Manager | Nexus PM |
| Architect | Gow Hastings |
| Construction manager | Buttcon Construction Limited |