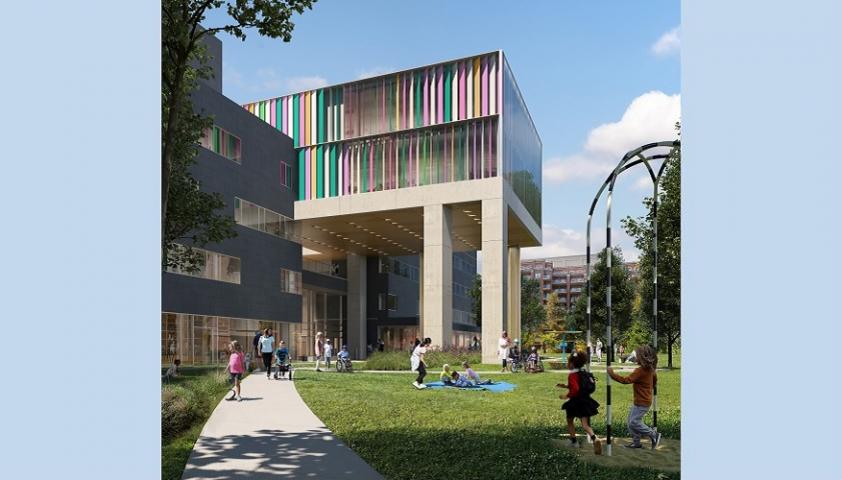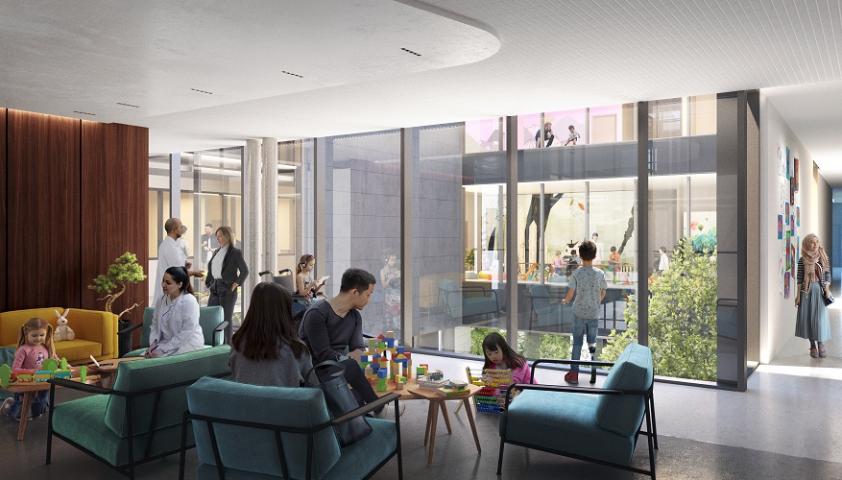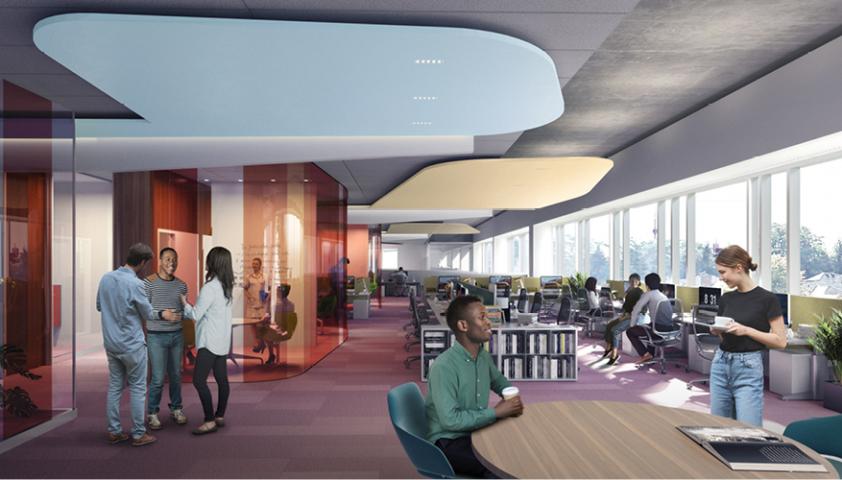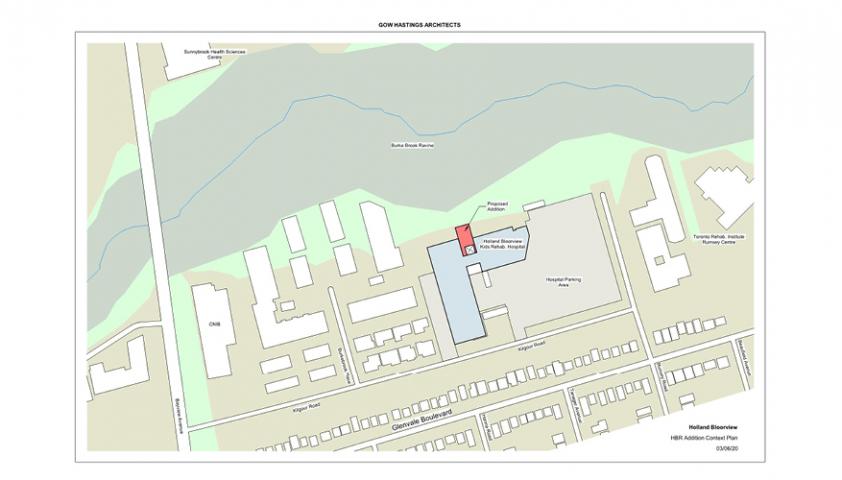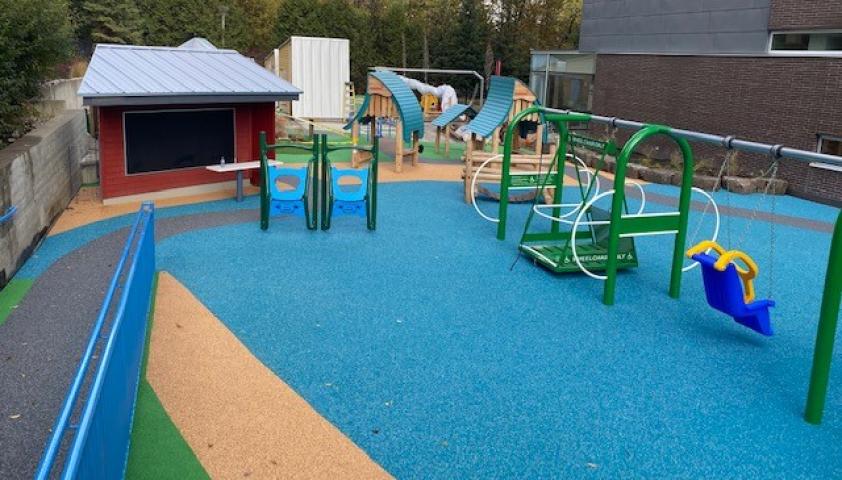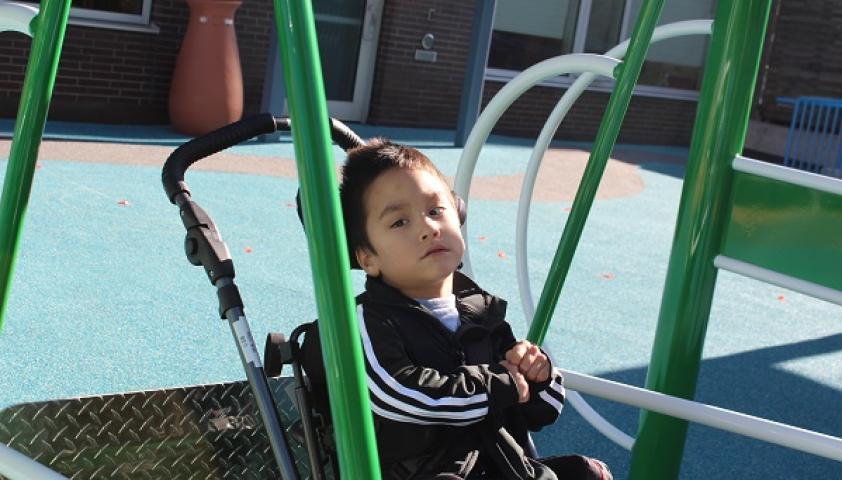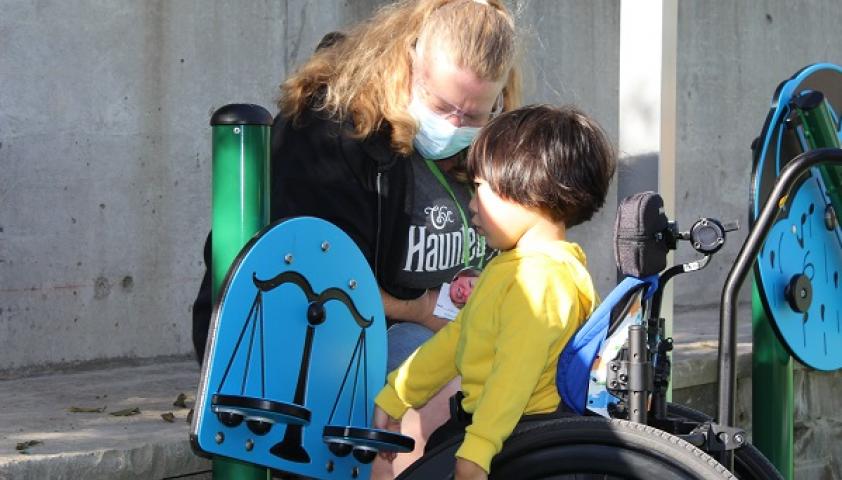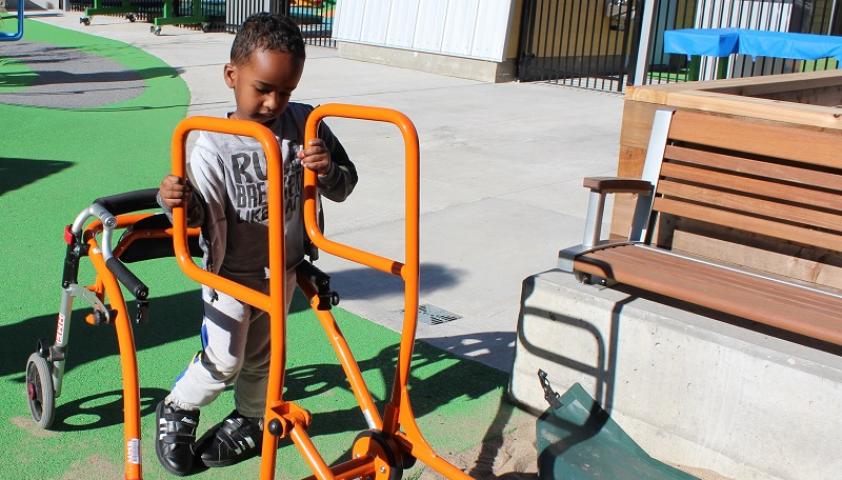 Holland Bloorview Kids Rehabilitation Hospital is growing its research institute to support ground-breaking research in childhood disability.
Once completed, the research expansion will feature private and teamwork spaces as well as discovery hubs. These hubs will give our scientists a chance to lead innovations in machine learning, music and arts, rapid prototyping among other fields. 
The project is designed to be very accessible and has followed all AODA guidelines. Accessible features include:
•    wider doors and hallways
•    door-operating devices in busy hallways
•    colour contrast between walls, floors and doors to help people with visual impairments get around
•    height-adjustable desks in workspaces. 
Sustainable features include:
•    using blinds to reduce sunlight
•    creating plenty of landscaped outdoor spaces
•    using natural materials with a low-energy footprint. 
This expansion will occur in three phases:
Phase 1: Playground construction [Completed]
In partnership with Bloorview School Authority and Kindercircle, and with the generosity of donors, Holland Bloorview has completed the construction of its state-of-the-art, fully accessible playground. Construction began in early June and finished in early November.
The inclusive playground was co-designed and co-created by a playground committee comprising clients and their families, teachers, clinicians, staff and volunteers – all with the vision of not only ensuring it met the highest standards of accessibility, but one that it also fosters wellbeing for children.
The new playground, nestled on the west side of the hospital, will give students from the Bloorview School Authority and the Kindercircle Daycare program as well as clients a chance to express their creativity through play. The playground features many accessible play structures such as a wheelchair swing, an accessible swing and slide, therapeutic play equipment, all surrounded by natural elements. Kids can also create music through various musical instruments and play panels scattered throughout the playground. The rubberized surface of the playground has also been coloured to mimic beaches, rivers, mountains and meadows for children to explore safely.
Watch the video of the virtual playground launch held on Nov. 23rd, 2020 .
Watch a video of our playground in action.
Phase 2: Two-floor expansion [Fall 2020/Spring 2021 projected start date]
Beginning as early as this fall, an approximate 11,000 square foot expansion will create more space for new discovery hubs, research teams and state-of-the-art research equipment.
The elevated two-storey expansion on the north side of the hospital will overlook the surrounding ravine, enhancing views of the landscape and creating more natural light. The exterior will be decorated with multi-coloured fins. Raised three-stories into the air, the underside of the addition will form a brightly light canopy for clients, families and the Holland Bloorview community to enjoy.
The expansion connects to the Bloorview Research Institute (BRI) by a 'front porch'-- a welcoming space where researchers, clients, families and staff can mingle, collaborate and share knowledge .
Phase 3: Fourth-floor renovation [Fall 2021/Winter 2022 projected start date]
Beginning in the fall 2021 or winter 2022, Bloorview Research Institute will begin the second phase of the research expanstion.  The fourth floor where the BRI is housed will be transformed to create a more modern work environment with fewer hallways and walls.
Researchers will work in an innovative, open layout that provides opportunities for both concentration and collaboration.
Approvals process
Holland Bloorview submitted an application to the City of Toronto in January 2020 to build the new two-storey addition on the north side of the hospital. Once the appropriate building permits are in place, construction will begin. 
Holland Bloorview is committed to keeping its community and the surrounding Leaside neighbourhood informed every step of the way: from the approval process with the City of Toronto and during the entire construction period.
As the municipal approval and construction process unfolds, we will hold open houses/tours and post online updates to ensure you have the most relevant and up to date information on our progress.
Have questions? Connect with us:
Holland Bloorview is committed to keeping its community and surrounding Leaside neighbourhood informed about its proposal plans, approvals process with the City of Toronto and during the entire construction period.
If you missed our Grow Holland Bloorview Research Town Hall on June 23, you can watch it here.
Building details
Address: 150 Kilgour Road (Google Map)
Construction start: Fall 2020 (anticipated) | Completed: Spring 2022 (anticipated)
Project team
Project team by role and provider

| Role | Provider |
| --- | --- |
| Holland Bloorview Lead | Nadia Tanel, Director, Research Growth and Expansion |
| Project Manager | Nexus PM |
| Architect | Gow Hastings |
| Construction manager | Buttcon Construction Limited |