Features
Learn more about the research MRI unit's different spaces and the scanner's capabilities for scientists who are interested in using the technology for their research studies.
Are you a young research participant? Watch Zach's video to learn more about what kids can expect during a MRI scan for research purposes.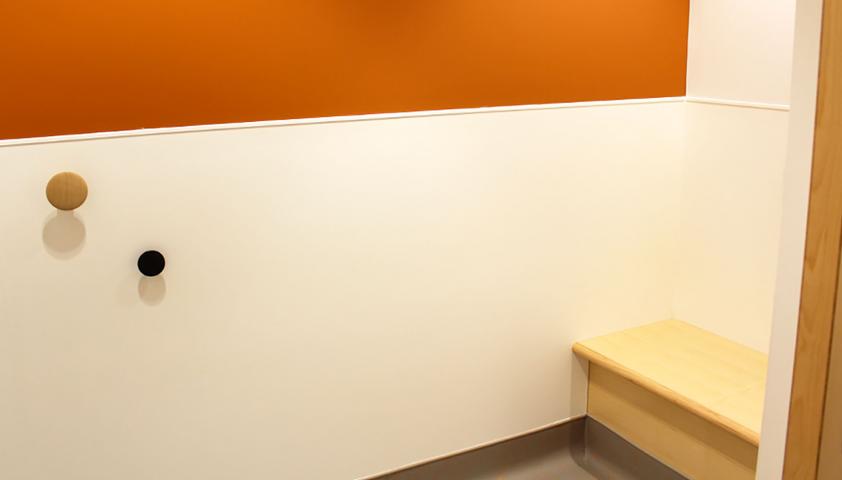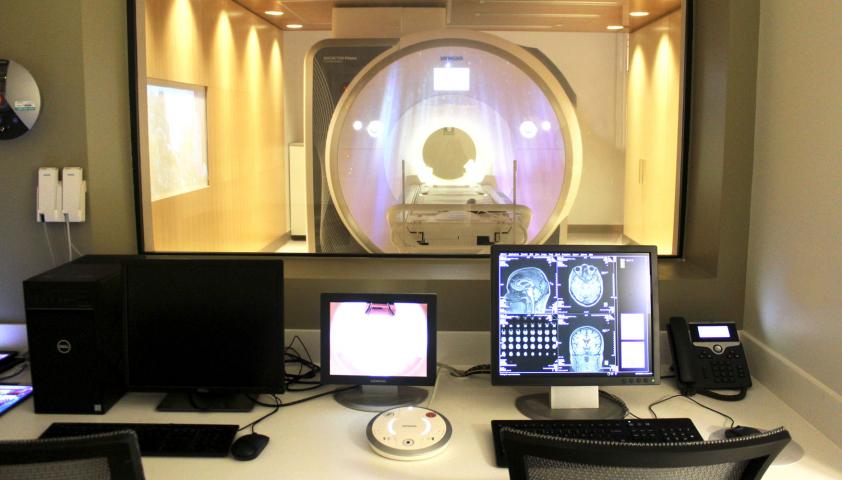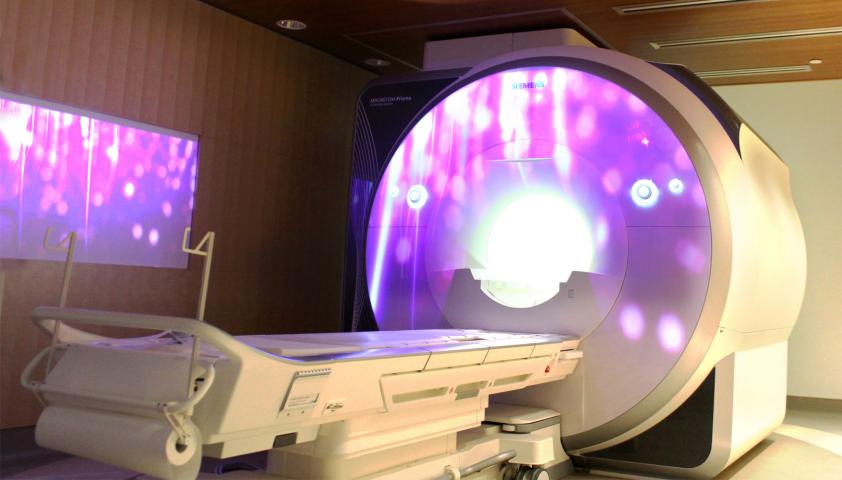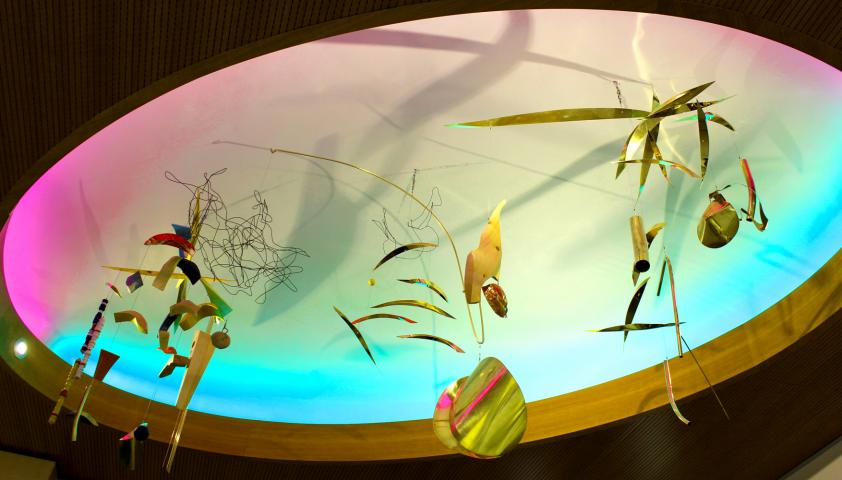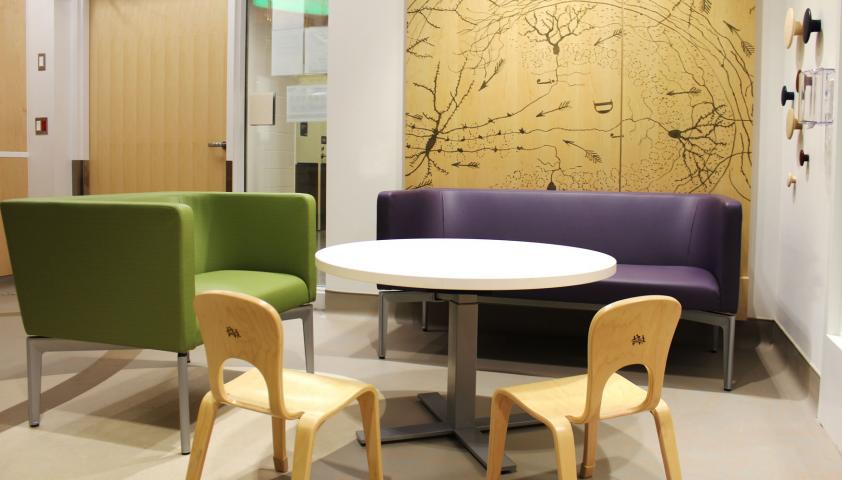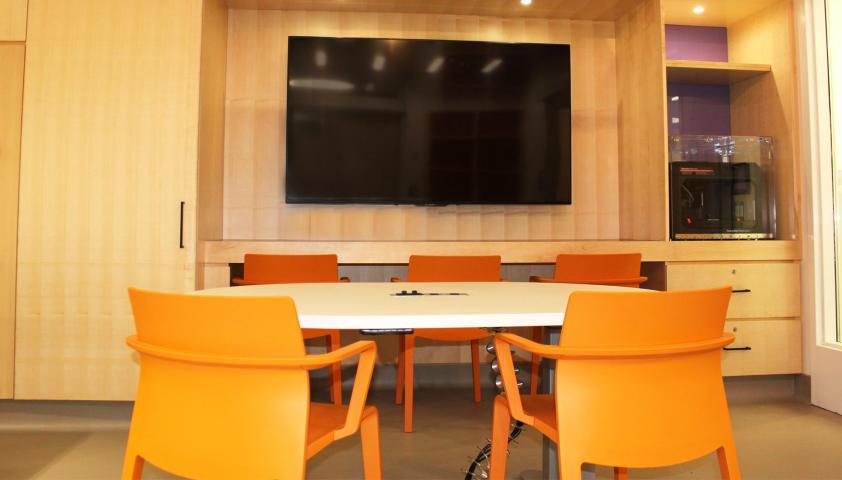 Waiting Room
The waiting room is designed to create an inviting and calm environment for those participating in a research MRI scan and their families. Children, for example, can choose to dim or brighten the lights in the room. They can also use a fan to make a whimsical, interactive mobile move around in the waiting area. The mobile, made of various materials such as metal, wire and wood was co-designed by local artist Dennis Lin and children from Holland Bloorview.
Assessment Rooms
Two fully accessible assessment rooms are equipped with tools to evaluate cardio-metabolic health participants.
These data can help researchers understand if certain long-term situations can put participants and/or their caregivers at risk for developing cardio-metabolic disorders (i.e. high blood pressure or diabetes), as well as look at prevention measures.
Scientific features: 
The Finapress Nova is a beat-by-beat cardiovascular monitor of continuous finger blood flow to measure blood pressure, heart rate, stroke volume, cardiac output, and total peripheral resistance.
The Impedimed SFB7 uses bioelectric impedance to estimate body fat and muscle mass.
Change Room/ Washroom
The change rooms and washrooms are fully accessible and are equipped with a ceiling-mounted lift system to accommodate participants who need mobility assistance.
Control Room
The control room has a large window facing the scanner room, allowing the technologist to monitor continually the participant during their procedure. A video camera fitted on the other side of the scanner room also provides visual monitoring of the individual inside the MRI scanner.
The door leading into the MRI scanner room is also made of glass so parents and family members can sit in front of the door and see their loved one. It can be changed from clear to opaque as well so the participant can be provided with some privacy if they wish.
MRI Scanner Room
The accessible scanner room has been uniquely designed to be a fully immersive and child-friendly environment for a participant undergoing a scan. Multiple projectors mounted in the room's ceiling enables them to customize themes (nature, space, ocean for example), on the scanner itself, on the adjacent wall and from a large, oval-shaped ceiling "skylight". Participants can also change the ceiling back lights to a different colour to match their chosen projections.
If the research study permits, a participant can even watch a movie with MRI-friendly goggles or a mirror during the scan and wear MRI-compatible headphones to reduce the noise that often comes with the procedure.