Image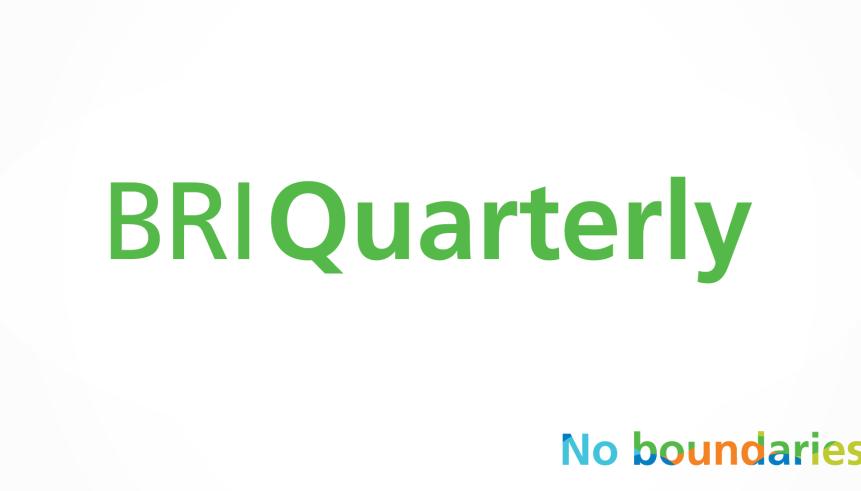 October 2022 (covers news, announcements and happenings from July to September 2022)
Holland Bloorview announces new vice-president of research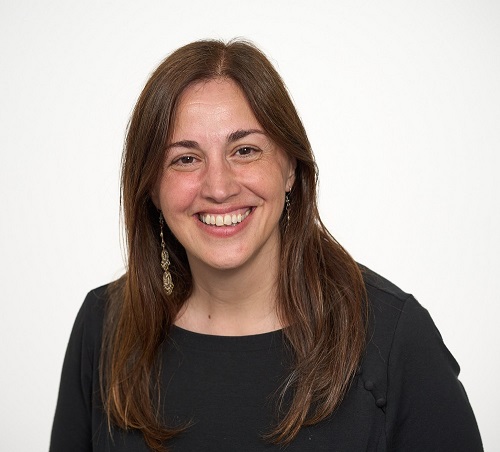 Dr. Evdokia Anagnostou, a senior scientist and child neurologist, is set to become the first woman to assume the executive research portfolio at Canada's largest pediatric rehabilitation hospital. Her appointment will begin on January 1, 2023.
Read more
 
Top Stories
Imagine Everybody: This fall's Imagine Everybody campaign features two of BRI's research labs and how they are creating a world where disability is included. Read how the PRISM lab and the EPIC lab are helping to do making this vision a reality.
In their own words: youth with neurodevelopmental disorders share their stories around mental health in the POND Youth Digital Stories project, supported by Holland Bloorview, CAMH and funded by the CHILD-BRIGHT Network, part of the CIHR-funded SPOR program and the Ontario Brain Institute. Read more
More BRI stories can be found here.  
---
In the News - Media Spotlight
Hummingbird takes flight: CBC Radio's Metro Morning and CTV News Toronto shines a spotlight on the Hummingbird launch, interviewing Dr. Tom Chau as well as a family, Ramya Raghavan and her daughter Oviya, about the impact of this new assistive technology, on their lives.
Celebrating student research success: The Toronto Star features Hannah Maclean and Mallory Solomon, two undergraduate students in the 2022 Ward Family Summer Student Research program Read more
BCI Innovation: The PRISM Lab's BCI technology makes a splash in the Globe and Mail, garnering national attention. The exclusive story interviewed two clients  -- Gisele Alnaser and Adam Haggarty – who are trialing this assistive technology at the hospital's BCI clinic, as well as Susan Van Damme, the clinic's program coordinator and occupational therapist, as well as Dr. Tom Chau, senior scientist and head of the research lab. Read more
 
More media highlights can be found here.
---
Graduate Student Scholarship Recipients
From investigating exoskeleton-assisted physiotherapy to enhancing BCI technology, this year's graduate student scholarship recipients are elevating childhood disability research to new heights.
Congratulations to the 2022 – 23 recipients!
Kimel Family Graduate Student Scholarship in Paediatric Rehabilitation
Marija Pranjic, PhD student in music and health sciences – collaborative program in neuroscience, University of Toronto
Project: Moving to the beat: Investigating the role of auditory and motor timing in synchronization abilities among children with and without developmental coordinator disorder
 
Kimel Family Graduate Student Scholarship in Paediatric Rehabilitation (Imaging)
Stefanie Bradley, PhD student in biomedical engineering, University of Toronto
Project: Quantifying the user experience, as well as neural, muscular, and functional gait changes following exoskeleton-powered gait rehabilitation in children with cerebral palsy and other mobility impairments
 
Kimel Family Graduate Student Scholarship in Pediatric Disability Research
Erica Floreani, PhD student in biomedical engineering, University of Toronto
Project: Optimization of brain-controlled power mobility access for children with severe physical disabilities
Kimel Family Graduate Student Scholarship in Pediatric Disability Research
Niloufaralsadat Hashemi, PhD student in biomedical engineering, University of Toronto
Project: The brain during movement execution and movement observation in children

Whipper Watson Graduate Research Scholarship
Erin Dowds, EdD student in child study and education at Ontario Institute for Studies in Education, University of Toronto
Project: a mixed methods exploration of barriers and facilitators to access, participation and outcomes for families in the Social ABCs
Read more
---
Grants and Awards (July to September 2022)
Dr. Elaine Biddiss and Dr. Virginia Wright
Virtual hand-arm assessments for children with cerebral palsy: helping us to achieve equity in rehabilitation care and research
Project Grant
$378,676
2022 – 2025
Dr. Elaine Biddiss and Dr. Shannon Scratch
Return to play with R2Play: an integrated and inclusive concussion assessment for youth
Project Grant
$634,952
2022 – 2026
Dr. Shannon Scratch
Brain circuits underlying attention programs after adolescent concussion
Project Grant
$726,750
2022 – 2027
Dr. Jan Andrysek
Automating the design of digitally-made prostheses
Alliance Grant
$644,158
2022 – 2026

Dr. Melanie Penner
Community pilot project
Autism Care Network
$24,788
2022 – 2023
---
New Publications/International Talks
Here are the latest publications on childhood disability research from Holland Bloorview's research institute from January 2021 to June 2022.
Click here for more information
---
BRI Resource - Research Communications Toolkit
Interested in raising awareness of your new research study or project across the wider hospital community and beyond? Do you have a study that you want to recruit participants for through our hospital's communication and social media channels?
We have created a new Research Communications Tool Kit with tip sheets and online resources to help you with 1) study recruitment promotion efforts and 2) communicate your research to targeted audiences through Holland Bloorview's digital channels.
The tool kit is available on our BRI Resource Portal now (search: 'Research Communications').
Contact Suelan Toye, Senior Research Communications Specialist (stoye@hollandbloorview.ca), and she would be happy to walk your research team through the toolkit.
---
BRITE Corner
Our BRITE executive is proud to introduce you to our newest team members:
Aliaa Gouda (past co-chair), PhD candidate, PROPEL Lab
Josh Shore, PhD student, NOvEL Lab/PEARL Lab
Christine Muscat, PhD student, CONNECT Lab
Chelsea Buckley, MSc student, CONNECT Lab
We are always looking to expand our team. If you know of any trainees that are interested in getting involved, please encourage them to send us an email.
Thank you!
Your BRITE co-chairs, Kieran Wheatley and Daniela Testani
---
Image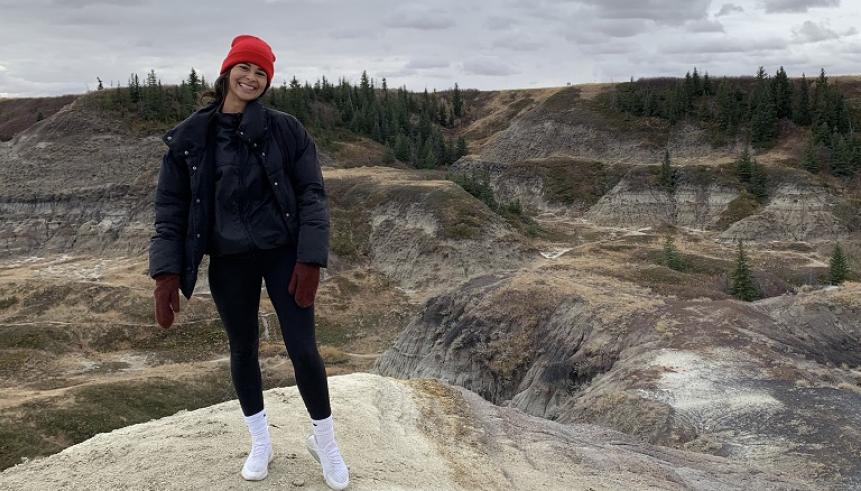 Trainee Spotlight
Each year, over 100 trainees from universities across Canada come to the Bloorview Research Institute (BRI) to collaborate with some of the world's top scientists in the field of pediatric disability research to advance scientific knowledge – and champion a world of possibilities for kids with disabilities and their families.
BRI Quarterly speaks to one research trainee, Shalaine Sedres, who is a Master's student studying rehabilitation sciences at the University of Toronto's Rehabilitation Sciences Institute and is a graduate research student at BRI's EPIC (Engagement & Planning for Inclusive Communities) lab.
How did you get interested in your field of research?
I completed my Bachelor of Community Rehabilitation and Disability Studies where I had the opportunity to gain invaluable experience working with the disability community. I was involved in multiple community activities, working as a Child Aid and completing practicums working with children with disabilities in educational and recreational settings. As a Community Aid, families often mentioned constant institutional struggles that their children would face, such as limiting or ableist school curricula. Hearing these stories brought my attention to real-world examples of everyday inequities and motivated me to work towards making a difference. It was through my work and undergraduate experiences that I uncovered my passion for supporting children with disabilities so they can continue to lead healthy and meaningful lives.
What drew you to Holland Bloorview's Bloorview Research Institute?
With my disability studies background, I value co-creation and participatory research methods. I feel that individuals with disabilities should be more deeply involved in the design and direction of research projects. For this reason, I wanted to ensure that the inputs of families living with childhood disability were reflected in my own study's research design. The Bloorview Research Institute's dedication to using a client family-centred approach to understand the lived experiences of children and youth with disabilities made me excited to collaborate with families and clients to discover and design potential rehabilitation solutions that would be directly applicable and relevant to them.  
What are you and your study team working on right now?
Currently, my team and I are working to understand the playground programming needs and desires of children with disabilities, their parents, as well as education and healthcare professionals. We are doing this by interviewing these groups and using arts-based methods to shed light on their experiences and perspectives. Ultimately, our hope is to produce well-informed recommendations that can support the development of a suite of playground programming options enhancing the play, educational and clinical experiences of children with disabilities.
My team is currently at the exciting stage of recruiting participants for our study, which include children with disabilities, their parents, Holland Bloorview healthcare professionals (i.e., occupational therapists, physiotherapists, therapeutic recreational specialists), and Bloorview School Authority education staff.
How can your research unlock a new world of possibilities for children and youth with disabilities and their families?
We expect that by learning about and identifying programming options for accessible playgrounds in educational and pediatric health-care contexts, this study will help support the development of more accessible playgrounds across North American schools and pediatric health-care centres. For example, if we can advance a coordinated suite of playground programming at Holland Bloorview Kids Rehabilitation Hospital, it could serve as an example of how existing accessible playground infrastructure in pediatric health-care centres can be leveraged and integrated with therapeutic/rehabilitation practices. With thoughtful programming, playgrounds may come to be used by educators as practical learning spaces, or by occupational therapists and physiotherapists as environments where play and care merge to support children in their rehabilitation.
What do you like to do in your spare time?
Considering how much time I spend sitting at my desk, I try and move as much as I can when I am not working. Soccer has always been a passion of mine. I'm now "retired" from my university career, but I still play in a Sunday co-ed league, which has been a great way to stay active and brush up on my skills. Also, moving from Calgary and being new to Toronto, I enjoy going for walks, exploring the city, and discovering new places to eat and shop.
---
Image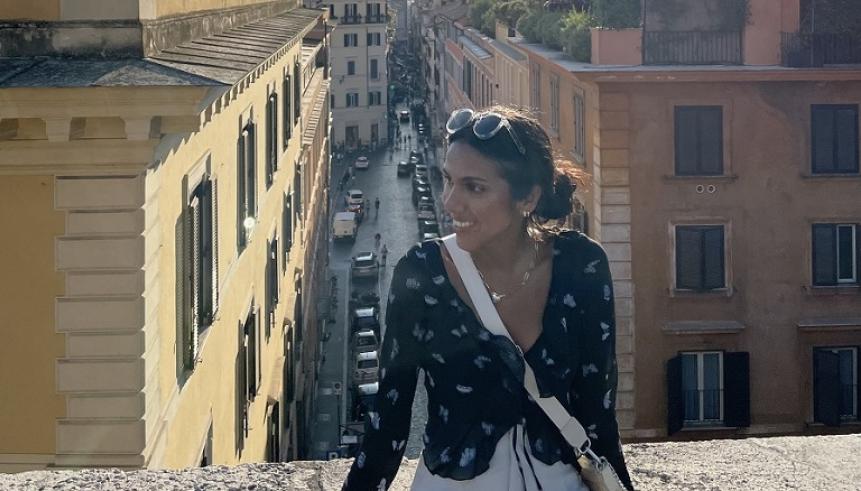 It's no secret that Holland Bloorview is full of everyday heroes. But how well do you know them? Let's get to know Aleena Walji, coordinator of the Bloorview Research Institute's Commercialization Office.
What did you want to do/be when you grew up?
I was never fully sure, I just knew it had to be something in health care. At one point in high school, I wanted to be the athletic therapist for the Canadian women's soccer team. I am thrilled that my current position allows for exposure to all the fields I found fascinating growing up: health care, the human body, and tech!  
What did you do before you came to Holland Bloorview?
I was completing a MEng in Biomedical Engineering at University of Toronto. A requirement of the program was an internship term, which is how I started at Holland Bloorview -- a six-month internship that led to the opportunity to start this full-time position!
What is your role here?
I have been the Project Coordinator in the Commercialization Office for a full year now. Our goal is to get the amazing innovations created here, in the BRI to the people who need them. In my position, I get to work on several projects across the BRI along with some fantastic individuals from a variety of disciplines! 
Biggest guilty pleasure?
As of recently, frozen chocolate mint Girl Guide cookies (emphasis on the "frozen"). 
Personal pet peeve?
This is a tough one.. I like passionate people, so perhaps my pet peeve would be the opposite of this: people who don't care enough. Alternatively, people who play music out loud on the subway.
What do you like to do in your free time?
I really like to cook (but I hate washing dishes) for my friends and family. I also have been able to travel which I have been so grateful for. Here's a picture from my recent trip to Italy!
---
Upcoming Events
Image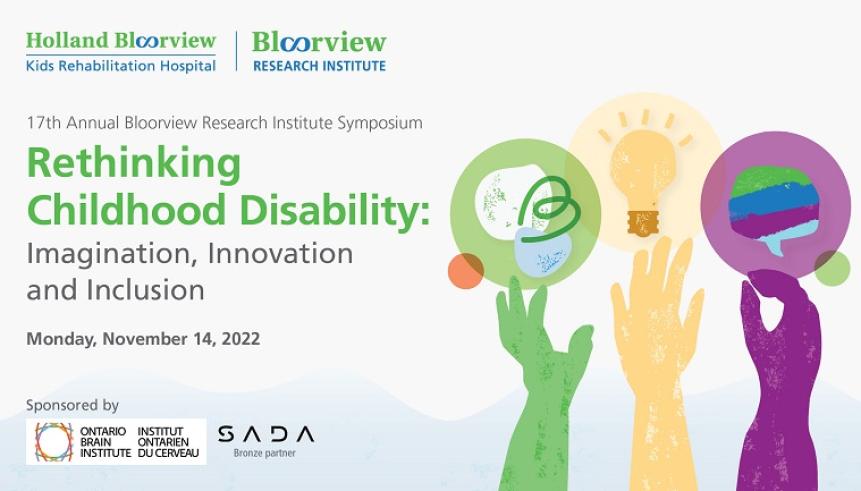 November 14,  2022 | BRI Research Symposium
Re-thinking Childhood Disability: Imagination, Innovation, Inclusion

Register now
Image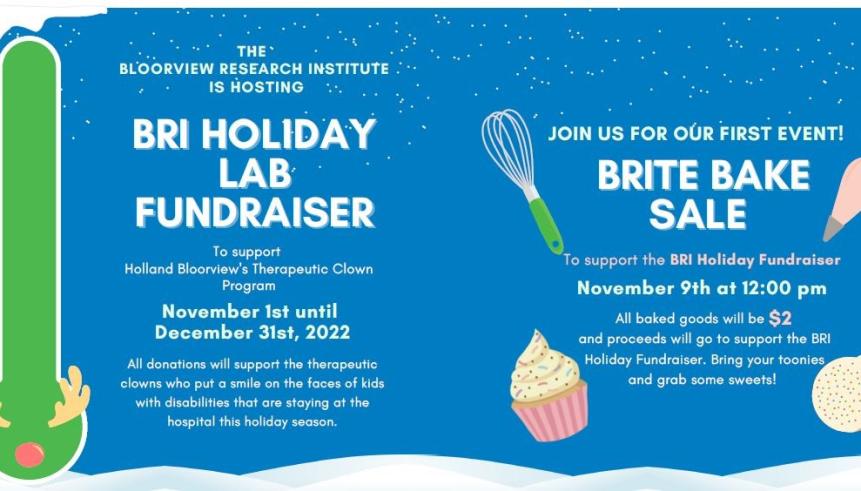 November 1 to December 31, 2022 | BRI Lab Fundraiser
November 9, 2022 @ noon | BRITE Bake Sale
Are you a member of the BRI community and are hosting an event? Please contact Suelan Toye at stoye@hollandbloorview.ca to promote your upcoming event in the next issues of the BRI Quarterly.
---
About BRI Quarterly 
BRI Quarterly, the forefront of childhood disability research, is the online publication of Holland Bloorview Kids Rehabilitation Hospital's research institute (the Bloorview Research Institute (BRI)).
Holland Bloorview's research, teaching, technology development and innovation will be driven by a no boundaries philosophy, which encompasses the following key impact areas: Discover for action, personalize pathways, connect the system, and co-create with children, youth, families and alumni. Ultimately, the goal is to enable better access to the most advanced and proven care, ideas and treatment.
About Bloorview Research Institute
Holland Bloorview's research institute is housed at Holland Bloorview Kids Rehabilitation Hospital, a top 40 Canadian research hospital that is fully affiliated with the University of Toronto and serves over 8,000 families annually. The Bloorview Research Institute (BRI) is recognized across the world for its unique client population and leadership in the field of childhood disability. Learn more.