Our strategy work is led by a representative group of experienced and passionate staff from across the organization as well as Family and Youth Leaders, who make up our Strategy Task Force. There are three sub-committees within the taskforce. Sub-committee members will facilitate throughout the planning process, bring their expertise and unique perspectives to the design and execution of the Campfires and Sparks, and ensure every voice is captured in Holland Bloorview's next strategic plan.
To learn more about the team and each sub-committee, scroll down or click on the box below.
Strategic Planning Task Force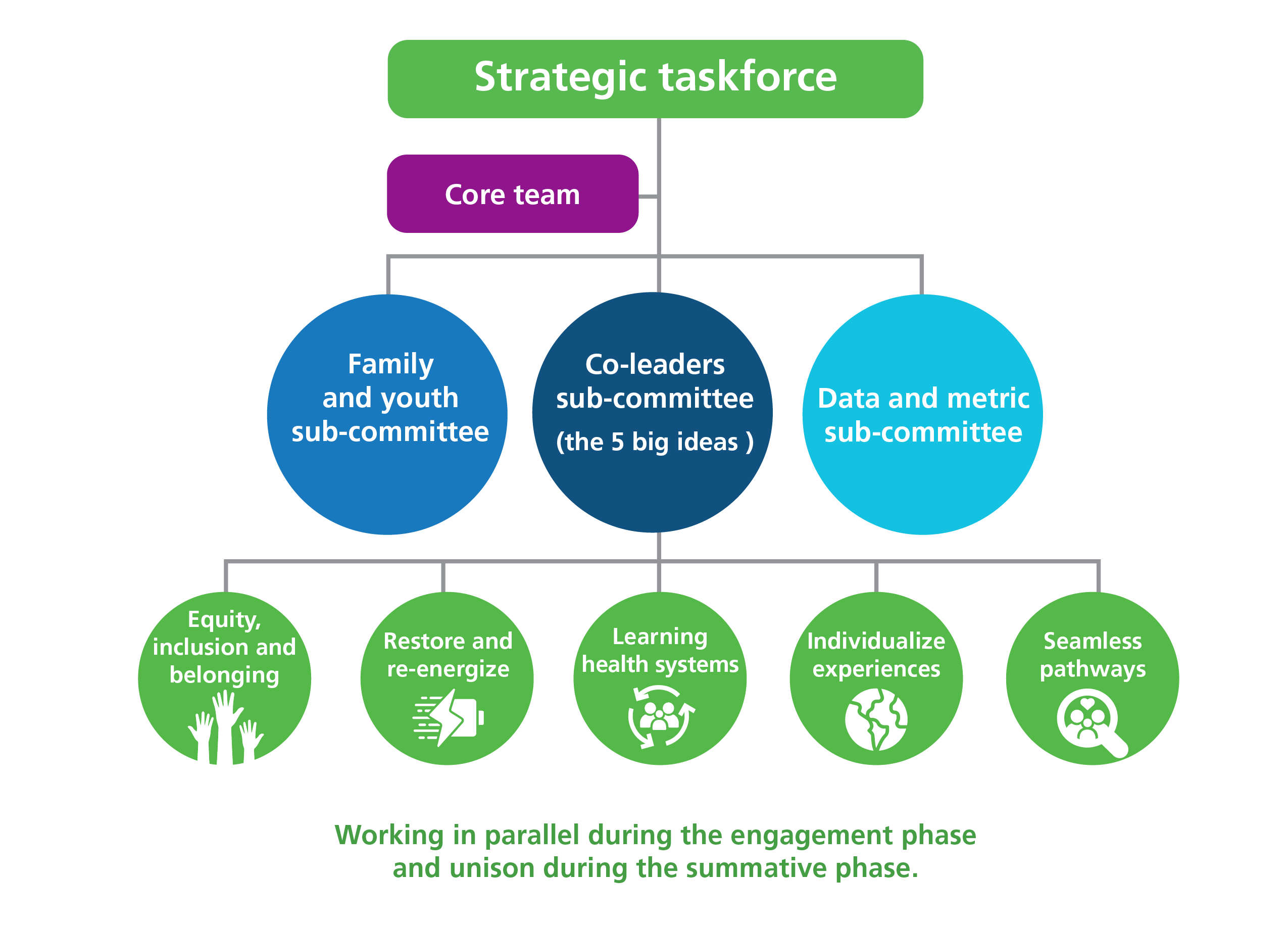 Core Team
The core team will guide the strategic engagement process and work to pull everything together into our next strategic plan. This team is comprised of Holland Bloorview resources and an external consultant, Potential Group, experts in strategy development, change leadership and strategy implementation in healthcare, research and education setting.
Holland Bloorview resources
Nadia Tanel - director, strategy
Stephanie McFarland - manager, strategy
Lisa Beaudoin - graduate student intern, strategy
Stewart Wong - vice president, communications, marketing and advocacy
Julia Hanigsberg - president and CEO
 
Potential Group
Danny Nashman - partner
Cate Creed - partner
Jackie McCaffrey - project manager, consultant 
Co-leads subcommittee
The co-leads subcommittee will act as strategic planning champions throughout the 2022/2023 strategic planning process and will be key in developing and leading Campfires and Sparks. Co-leads are each aligned with one of the five big questions as follows:
Equity and Inclusion

Vera Nenadovic - nurse practitioner (BIRT), nurse practitioner practice lead, vice chair research ethics board
Kim Jones Galley - student coordinator, academic affairs
Sally Lindsay - senior scientist, Bloorview Research Institute (BRI)
Lorraine Thomas - IDEA manager (interim)
Cheryl Peters - family leader
 

Restore and re-energize 

Geeta Thomas - manager, talent, acquisition & engagement, people & culture team
Tamara Milicevic - clinical pharmacy services coordinator
Angie Sweeney - manager, administration support services, people & culture team
Laura Thompson - team lead & occupational therapist, transitions team 



Learning health system

Melanie Penner - clinician scientist, BRI
Kathryn Parker - senior director, academic affairs and simulation lead
Darcy Fehlings - developmental paediatrician, medicine
Joanne Maxwell - senior director, collaborative practice & clinical education, and interim director, quality, safety & performance
Ivona Novak - family leader 



Individualized experiences and impact populations

Azadeh Kushki - senior scientist, Bloorview Research Institute, associate professor
Laura McAdam - physician director, medicine
Julie Chiba Branson - interim director transitions, client and family integrated care (CFIC) & community partnership
Jessica Reid - social worker, child development program & clinical lead, family navigation hub
Joanne Downing - family leader



Seamless pathways and gaps

Adila El-Korazati - physician, medicine
Shannon Scratch - clinician scientist, BRI & clinical neuropsychologist, BIRT
Anthony Danial - interim clinical operations manager, neuromotor, selective dorsal rhizotomy (SDR) and music 
Andrea MacDonald - clinical operations manager, spina bifida, feeding and lifespan
Carolyn Wilson - clinical resource leader, complex continuing care
Adrienne Zarem - family leader 
Data and metrics subcommittee
The data and metrics subcommittee will co-design the data requirements and short/long-term success metrics and indicators associated with the final strategic plan. The members are:
Pakizah Kozak - chief information officer 
Sri Vijay Bharat Peddi - manager, decision support and analytics
Rebecca Heersink - manager, risk and safety
Shrikant Kelkar - director, clinical operational excellence
Robyn Cardy - project manager, digital operations & process improvement project manager, digital operations & process improvement, BRI
Ryan Kandasamiar - clinical applications specialist
Virginia Wright - senior scientist, full professor, BRI, interim vice president, research
Dolly Menna Dack - clinical and research bioethicist, client and family integrated care
Family / youth engagement subcommittee
The family and youth engagement subcommittee will co- design family and youth engagement throughout the planning process and help mobilize family and youth leaders to support engagement of underrepresented groups. The members are:
Clara Ho - manager, CFIC and partnerships 
Jean Hammond - family partnership specialist
Jeffrey Man - youth leader
Marya Bangash - youth leader 
Jessica Chan - youth leader
Julia Kowal - coordinator, family engagement
Gunjan Seth - family leader
Meredith Sandles - family leader 
Shukri Farah - family leader
Adrienne Zarem - family leader
Ivona  Novak - family leader
Cheryl Peters - family leader
Joanne Downing - family leader