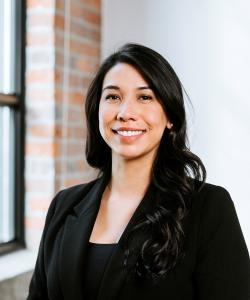 Luana Harris
Managing Director, RBC Sports Professionals RBC Wealth Management
As Managing Director of RBC's Sports Professionals Division, Luana Harris leads the global segment strategy and oversees an experienced team of investment advisors, bankers and marketers focused on individuals and businesses in the sports and entertainment industry, such as professional athletes, team franchise owners, leagues, rights holders and sports agencies.
 
Throughout her career, Luana has held a number of marketing, sponsorship and product roles. She previously served as Director of Global Ultra-High Net Worth and High Net Worth Marketing at RBC Wealth Management, and Co-Head of Marketing & Business Development for the RBC Sports Professionals division, where she was responsible for writing annual growth strategies and research, client acquisition and retention initiatives, championing analytics, negotiating sponsorships and developing long-term partnerships. Prior to RBC, Luana worked at BMO Wealth Management, focusing on high net worth and ultra-high net worth clients across Canada, the U.S. and Asia, as well as assisting in the development of a national sports professionals segment. 
Luana completed a Bachelor of Arts at Queen's University and a Master of Education at the University of Toronto (OISE). She also completed executive education certificates at the University of Toronto and Columbia University in marketing and sports management. Through her current work, she has created a number of private client education programs with Harvard Business School and Western University's Ivey Business School for professional athletes and ultra-high net worth families.  
From a charitable perspective, Luana previously volunteered on the St. Michael's Hospital young professional's board (SMYL), Sick Kids' Breakfast of Champions young professionals committee, and RBC Race for the Kids steering committee in support of the Family Navigation Project at Sunnybrook Hospital.