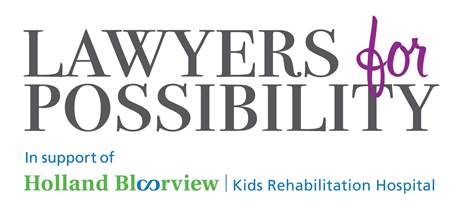 Lawyers for Possibility is a dynamic new group of legal professionals dedicated to creating possibilities for kids with disabilities at Holland Bloorview Kids Rehabilitation Hospital.
The founding Lawyers for Possibility Cabinet has set a goal of raising $100,000 for the Bloorview Research Institute at Holland Bloorview.
Join us as we raise funds and awareness through Capes for Kids from March 2-8, 2020.
As a Lawyer for Possibility you will receive…
a behind-the-scenes tour of Holland Bloorview and the Bloorview Research Institute;
updates and stories about the impact of your support;
recognition on the Holland Bloorview website and a major news publication.
Make your commitment and donate online today.
Lawyers for Possibility is led by an exceptional cabinet of legal professionals dedicated to raising funds and awareness for Holland Bloorview.
The 2020 Cabinet Membership included:
Sharon Lee, Counsel, Department of Justice
Andy Pushalik, Partner, Dentons Canada LLP
Julia Shin Doi (Chair), General Counsel and Secretary of the Board of Governors, Ryerson University
Shelley Babin,SVP, Law & General Counsel, Chief Ethics Officer at Ontario Power Generation
Alison Burrison, Owner, Burrison Law
Tali Golombek, Program Officer, Pro Bono Students Canada
Amelia Leckey, Partner, Smockum Zarnett LLP
Kay Leung, Tax Lawyer, Torkin Manes LLP
Ardy Mohajer, Partner, Commercial Real Estate and Development at Cassels Brock & Blackwell LLP
Zahra Nurmohamed, Partner at KPMG Law and KPMG Canada
Kadey Schultz, Partner, Schultz Frost LLP