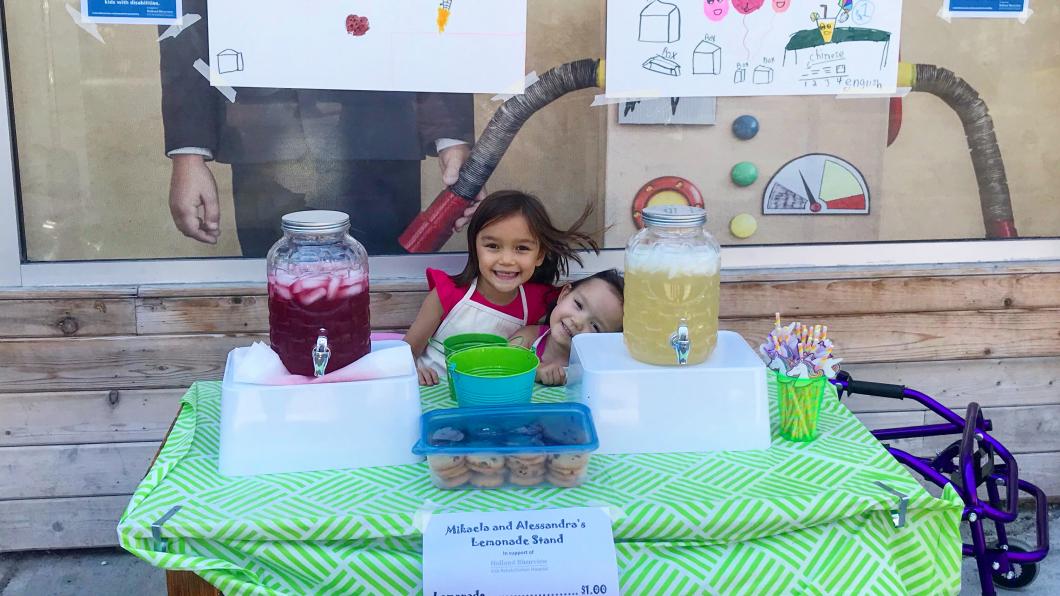 Story
Two sisters share lemonade—and cookies—for possibility
Sisters Mikaela, 9, and Alessandra, 6, do everything together: from playing at the park to swimming to hosting a lemonade stand for Holland Bloorview.
"I found out about Lemonade for Possibility on social media, and I thought, 'What kid wouldn't like to do a lemonade stand?'" says the girls' mother, Jolane. "I asked them, and they were super excited about it."
Not only were Alessandra and Mikaela ecstatic about their lemonade stand in the summer of 2019, but they couldn't wait to spread the word about Holland Bloorview to their neighbours.
Alessandra first came to Holland Bloorview when she was just two years old, after being diagnosed with cerebral palsy (CP). Since then, she's graduated from kindergarten at the Bloorview School Authority, and still visits hospital for physiotherapy.
"While it is a hospital, for some people, like us, it's also our second home," says Jolane. "That's why we're so committed to helping out and giving back where we can."
In addition to lemonade, budding baker Alessandra made some cookies to sell at their stand, and she and her sister had a lot of fun making posters to tell their customers all about Holland Bloorview.
"A lot of people would stop and have some lemonade, and then as soon as they saw that it was a fundraiser for Holland Bloorview, they donated more," Jolane says.
Alessandra and Mikaela's lemonade stand even received some extra donations from local businesses.
"I think it's great for kids to learn at a young age the value of charity, donating your time and volunteering," Jolane says. "They understand that some things require the community support."
Thanks to support from their family, friends and neighbours, Alessandra and Mikaela raised almost $400 for Holland Bloorview—and they look forward to hosting another lemonade stand as soon as they can.
"Holland Bloorview is so warm and welcoming and you feel like you're in good hands when you're there," says Jolane. "That's why giving back, whether it helps us or another family down the road, is so great."
Call to action Text
Support kids with disabilities today.
Donate Now