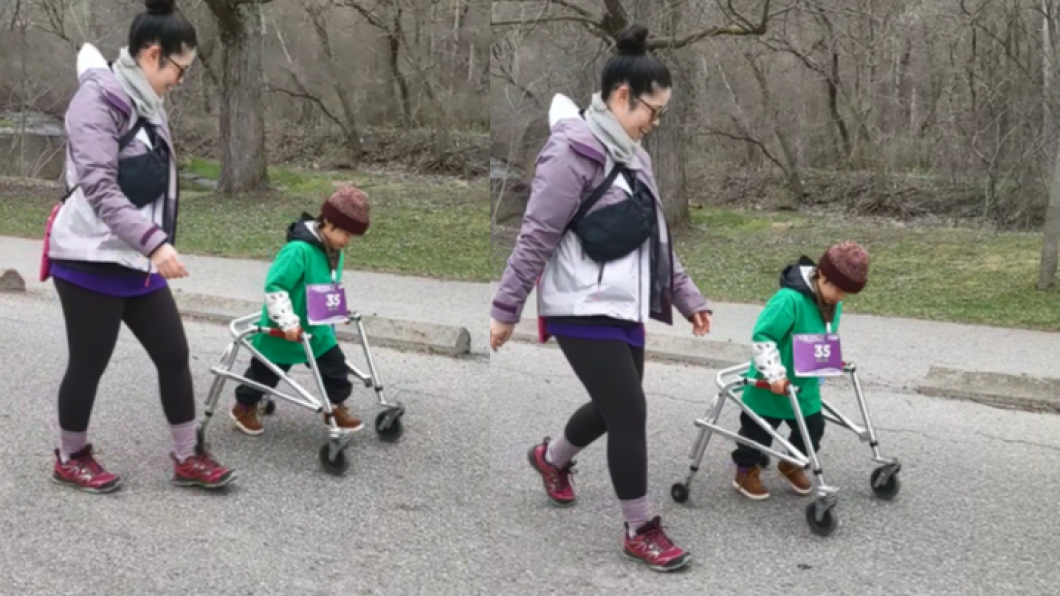 Story
On the move with Oscar
"If you've ever met Oscar you will know how joyfully and enthusiastically he moves through the world."
At just four years old, Oscar moved and raced towards the finish line at the Freestyle 5K & 1K Kids Run. The Running Physio and Canada Running Series Foundation organized and hosted the event, where participants raised $6,650 for Holland Bloorview.
"We wanted to create an experience of inclusion and fun as well as normalize all bodies and all mediums of movement, and provide an engaging experience for everyone," says Lauren Roberts, physiotherapist and founder of The Running Physio.
"It was heartwarming and meaningful to witness the race come to fruition and everyone's expressions of happiness and triumph as they crossed the finish line," says Anh Vuong-Phillpotts, executive director of the Canada Running Series Foundation.
One of those triumphant racers was Oscar, who now proudly calls himself an athlete. After raising over $1000 for Holland Bloorview, Oscar and his mom Amy share what the Freestyle 5K race meant to them.
What motivated you to do the Freestyle 5k & 1k kids run?
Amy: The past two years have been disproportionately challenging for disabled* and vulnerable populations. Between existing funding challenges and the complexities of living through a pandemic, it has not been an easy time for many in our communities. When an accessible opportunity came up to channel Oscar's love of movement into support for an organization that has done so much for disabled children, we were excited to give it a try! Our family has been a part of the Holland Bloorview community since Oscar was about two years old. We have met some incredible families, clinicians, and staff along the way and are so grateful to be here! 
What did it mean to you to see the community show up to support Holland Bloorview?
Amy: We have been absolutely blown away by the overwhelming support of his incredible community. We teared up regularly reading the encouraging and supportive messages for Oscar on the fundraising wall from family, friends, and colleagues. We are SO grateful to our incredible village who have been part of our little boy's journey from day one. 
What was your favourite part of the run?
Oscar: Red lights. 
Amy: Oscar loved running towards the big red timer clock beside the finish line! You should see the way he smiles as he holds up his medal to show people what he's achieved. Participating in this event has allowed him to see himself in a whole new light. Signing up for this race was an impulsive decision we made to help out our community a little, have some fun and get out of the house. We had no idea that it would bring so much to our lives and initiate such an empowering shift in self-identity for Oscar. 
---
* At Holland Bloorview, we believe in supporting our clients, families, and alumni in regards to their preferred language; for example, whether they prefer people-first or identity-first language. In this instance, Amy uses disability-first language.
Call to action Text
Support kids with disabilities to live joyful lives.
Donate today.