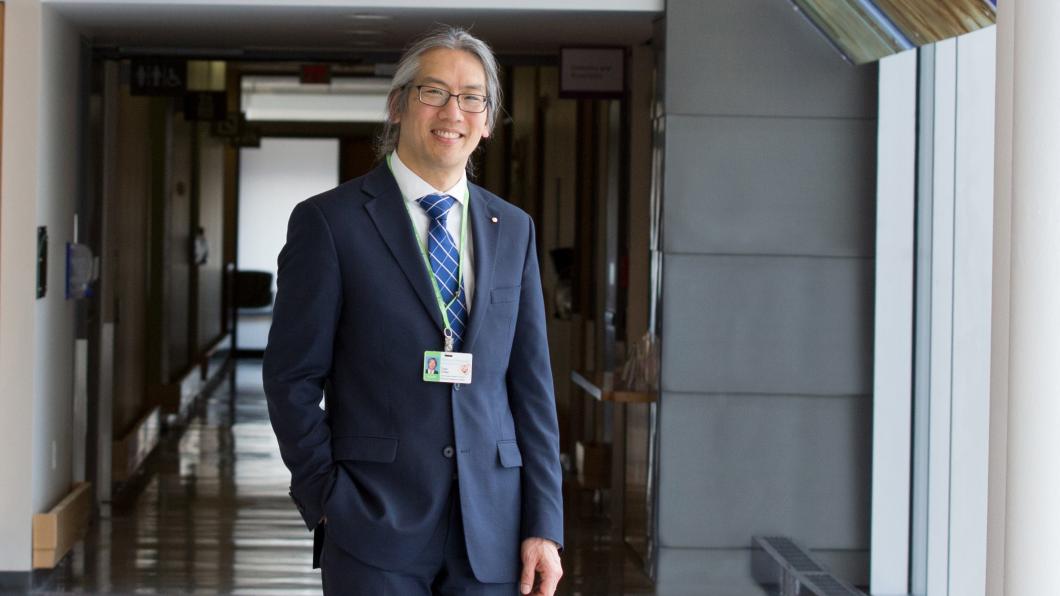 Story
The limitless possibilities of accessibility innovations thanks to Dr. Tom Chau
Holland Bloorview believes in the power of innovation and co-creation, and Dr. Tom Chau's approach to advancing access and assistive technologies is no different.
Once Dr. Chau left his job in big tech, he never looked back. Inspired by the birth of his first son, the researcher was determined to work towards creating a healthy future for kids.
"I was just sitting by the window holding my son and watching the snow fall. And I realized, oh, what a miracle! I know it sounds cheesy now, but at that moment I decided I was going to leave my job," recalls Dr. Chau.
The researcher's engineering background and commitment to innovation led him to the Bloorview Research Institute (BRI) and from the moment he shared his ideas for advancing access technologies for kids with disabilities we were impressed.
Since arriving at Holland Bloorview Dr. Chau has focused his research on advancing communication technologies. Strong in his belief that communication is a human right, the assistive devices he's created are constantly evolving, creating infinite possibilities for users. 
Spreading accessibility innovation beyond our walls
The Hummingbird was first created by Dr. Chau for non-speaking kids and adults. It is a device worn around a user's neck that converts vocal cord vibrations into switch outputs that 'talk' to different interfaces, such as communication devices and computers. 
The device reimagines the ways in which people with severe disabilities are able to communicate. 
Seeing the Hummingbirds fly
Watching users develop an incredible level of technological proficiency has been a highlight of Dr. Chau's career. The researcher is constantly in awe of how many users have surpassed expectations.
One of the Hummingbird's first users went from using the device to type names to mastering his favourite video games.  Dr. Chau remembers the young boy "throwing punches and kicks and doing somersaults and flips. When I asked him 'how are you controlling this character?' I realised that he memorised the timing of the selections. He was keeping time himself, which is unbelievable." 
Working with future leaders
In addition to seeing the impact of these innovative technologies, Dr. Chau's favourite part about working at Holland Bloorview are the students on his team. 
"The young people at Holland Bloorview are so amazing. They're so passionate. They want to make a change, they want to make a difference, and they have so many amazing ideas. I will be the first to admit, any of the out-of-the-box ideas that the lab has come up with originated from my students," he gleamed with pride.
Breaking through conceptual barriers
Dr. Chau is currently working with brain-computer interfaces (BCIs), allowing users to control technology by translating brain activity. With this technology, children who are nonspeaking or who have severe motor control disabilities are able to use the power of thinking to control the world around them – from moving a remote control toy to turning switches on and off. 
Again, the researcher celebrates that kids are "breaking through all of the conceptual barriers and limitations we thought of the technology."
Notably, The BCI Clinic started out as a place only for kids without the means to communicate, but it quickly grew to serve kids with a wide range of disabilities, including autism. 
The possibilities are truly endless
Dr. Chau's loves how Holland Bloorview highlights families' and childrens' individual value. "Personally," Dr. Chau shares "the most impactful piece of being here at Holland Bloorview, is being able affirm the message that every child has a really special mission that only they can achieve."
Dr. Chau knows that provided with the proper opportunities to participate, the world of possibilities for kids with disabilities is endless.
If you're interested in supporting transformational research that advances the future for kids with disabilities, you can donate today.  
 
Call to action Text
Help build a world of possibilities for kids and youth with disabilities.
Donate today