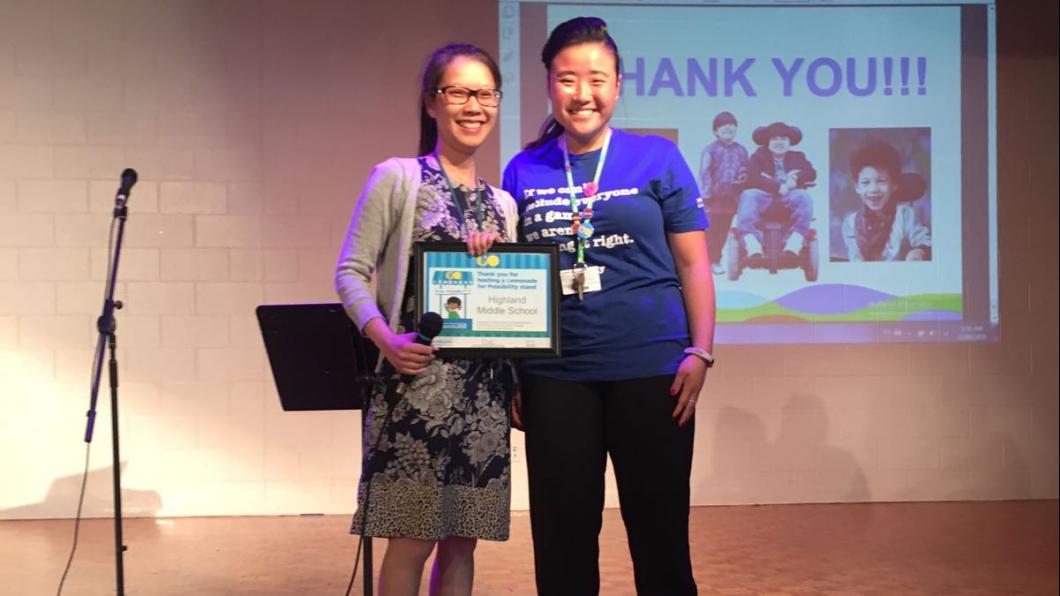 Story
Lemonade stands, carnivals and talent shows, oh my!
Highland Middle School has been fundraising for Holland Bloorview longer than most of its students have been alive.
And Mazy, a science teacher at the school, has been supporting those fundraising efforts for the last 20 years. Together, school staff and students have helped raise thousands of dollars for kids and youth with disabilities.
"There are other charities out there, but Holland Bloorview really speaks to us because at the end of the day, it's kids helping kids," says Mazy.
Every year, Highland Middle School holds a carnival for Holland Bloorview, complete with potato sack races, an egg toss, and a talent show. While anyone can join in on the fun, students are invited to donate what they can prior to the event. Donations from the talent show also contribute to the funds raised for the hospital. Christina, a French teacher at the school, has organized the talent show year after year. 
And while COVID-19 restrictions mean that the carnival is postponed for now, Highland Middle School students can't wait to get back to fundraising for Holland Bloorview—and have some lemonade, too!
"It's such a fun day for all of the students and staff. We end the year with a bang, and it's all for a good cause," Mazy says.
And, just recently, the Highland Middle School carnival got a lemonade stand in support of Lemonade for Possibility.
"Holland Bloorview asked us if we would include a lemonade stand in our carnival, and we said, of course! We even bought a cotton candy machine," Mazy adds.
The Lemonade for Possibility stand is a highlight of the festivities at Highland Middle School, with a line that stretches across the school yard. Proceeds from the lemonade stand also go to programs and services at Holland Bloorview.
But as Mazy says, clients at Holland Bloorview aren't the only ones who benefit from this great event.
"At the talent show a few years ago, my student read out a poem about overcoming challenges, and someone from Holland Bloorview who was watching the talent show loved it so much that she asked for a copy of the poem. When I told my student, she was so proud. She was beaming," says Mazy.  
"We are constantly teaching about showing kindness to others and helping people you may not even know. At first, you might think there's nothing you can gain, but it feels good to help out. Holland Bloorview helps teach our students this very important lesson."
Call to action Text
And you can help support kids with disabilities, too!
Donate Now