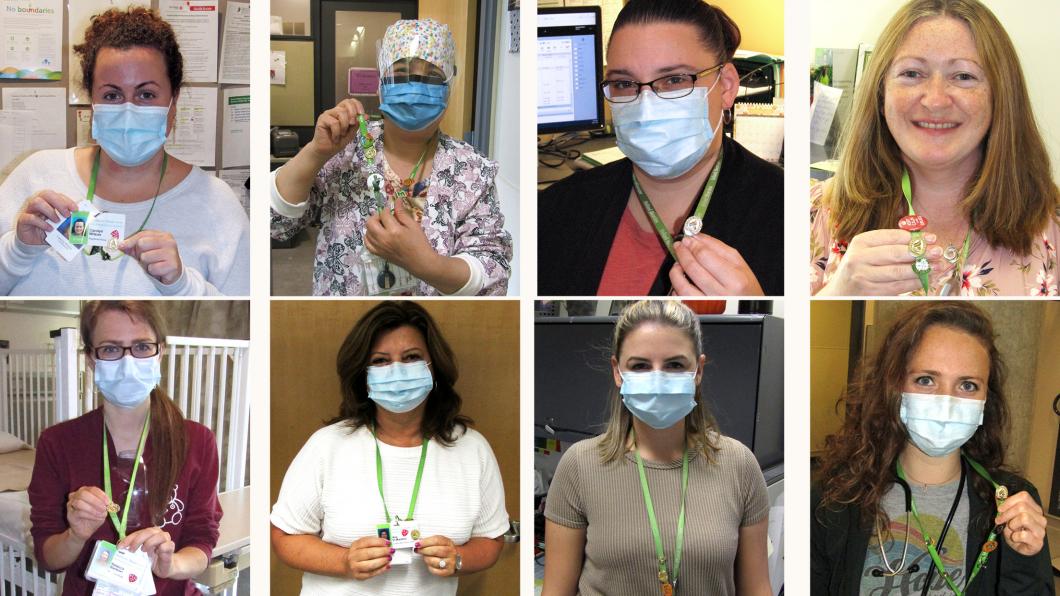 Holland Bloorview takes home Canadian Nurses Association award
Hospital recognized for outstanding support of certification program and CNA-certified nurses
Holland Bloorview Kids Rehabilitation Hospital (Holland Bloorview) is proud to announce an important acknowledgement from the Canadian Nurses Association (CNA) in the form of its prestigious annual Certification Employer Recognition Award.
Each year, CNA recognizes one health care organization for "exemplary, sustained support of the certification program and CNA-certified nurses." CNA created this award in 1999 to honour employers who have gone above and beyond to demonstrate support for the certification process in nursing specialties.
"We understand that supporting paediatric nursing expertise not only supports our nurses' professional development and career advancement, but raises our standards and helps us provide the safest, highest quality care possible," said Irene Andress vice president, programs and services and chief nursing executive, Holland Bloorview. "Achieving CNA certification sends a clear message to our clients and families, it tells them we are committed to the highest standard of professional nursing practice."
To understand what the certification means to our team, we went straight to the source. Below please find notes from a few of Holland Bloorview's CNA-certified nurses in response to our question, "how has what you learned helped you in your current role at Holland Bloorview?"
"What I've learned has helped me as a Hospital Charge Nurse at HB, because it has given me an even greater understanding of pediatric psychology and physiology. For example, when there is an event with a family and the patients, I am able to look at all aspects of the situation and provide better assessments and solutions which is all always client and family centered." — Rebecca Bierbrier
"It has helped me to be more extensive in my clinical work at Holland Bloorview. I have worked in the inpatient unit as well as outpatient unit. The CNA certification allowed me time to have time to explore children's health and development in-depth. It allowed study groups as well as independent learning materials to truly have the expertise in pediatrics that supports myself, my colleagues and clients we serve. One particular example where I felt I benefited was when I was in Ambulatory Care, looking at growth and development and understanding myself through assessments where extra supports were needed to help the child meet their full potential. I was able to have collaborative discussion with the teams with my new extensive knowledge on pediatric health."— Carolyn Wilson
"As a Registered Nurse, I thought it was important for me to continue my education and to further enhance my knowledge to enrich the quality of care I provide to our clients and their families. For this reason I decided to take the Canadian Nurse's Association Pediatric Certification exam this past spring. It has enabled me to further strengthen concepts of pediatric conditions, holistic care, nursing management of diseases and ethical considerations. These concepts have already proven to be useful in my everyday practice. For example, I was able to apply content and knowledge learned from this exam during a pediatric emergency involving a client with a blocked Ventriculoperitoneal (VP) shunt. This knowledge allowed me to quickly identify what was occurring and allowed me to work alongside the nursing team to implement appropriate nursing interventions to ensure the client's safety." — Julia Kennedy
We then asked these CNA-certified nurses what they love about the work they do.
"The greatest part of work that I do is continuously gaining new knowledge so that I can better help others. I enjoy helping not only nurses, but all members of the interdisciplinary team, families and clients.  I am happy to provide guidance when needed and I am always open to learning more. 
— Rebecca Bierbrier
"My favourite part of the work I do is engaging with clients and families. Looking at their full story and exploring their strengths and how Holland Bloorview and myself, fit into their story and how we can continue to help them grow and thrive. I love the humanistic side of care that Holland Bloorview allows me to do. Sitting down and getting a full story of where families and clients are at, hearing updates on how they are doing, being able to be a listening ear or a pillar in challenging times or providing health education to families." — Carolyn Wilson
"One of my favourite aspects of my role as a registered nurse is to witness the resilience and determination of our clients and their families on their health and rehabilitation journeys. I find it very rewarding to partner with clients and their families as they work towards achieving their unique health goals." — Julia Kennedy
"The clients and families that we work with here at Holland Bloorview – being able to connect with a client, put a smile on their face, and ensure they are getting the best care possible, while setting them up for successful transitions home." — Sarah Hamadi
Holland Bloorview would like to thank CNA for recognizing our organization's efforts to support its nurses and Carolyn, Julia, Rebecca and Sarah for taking the time to help us understand what they love most about their work and how the certification has impacted their day-to-day here at the hospital.