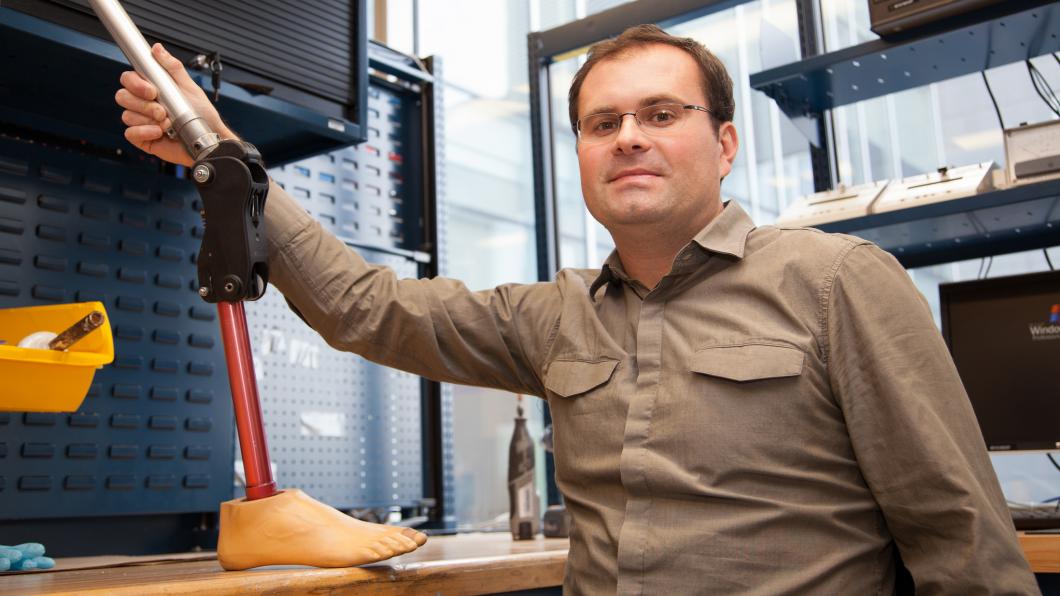 Dr. Jan Andrysek, senior scientist, inducted to prestigious American Institute of Medical and Biological Engineering (AIMBE) College of Fellows
TORONTO, ON (March 25, 2019) – Holland Bloorview Kids Rehabilitation Hospital (Holland Bloorview) is thrilled to announce that Dr. Jan Andrysek, senior scientist, Holland Bloorview, and associate professor at the University of Toronto's Institute of Biomaterials and Biomedical Engineering (IBBME) has been inducted to the American Institute of Medical and Biological Engineering (AIMBE) College of Fellows (Class of 2019). This prestigious nomination puts Dr. Andrysek at the top two per cent of the medical and biological engineering community.
"I'm honoured and humbled to be elected to the AIMBE College of Fellows," says Dr. Andrysek. "It's an incredible achievement to be included in a distinguished and talented pool of individuals in the medical and biomedical engineering community who are working hard for a healthier society for all. I look forward to collaborating and sharing knowledge with fellows to discover for action and develop innovations for communities in need across the globe."
For over a decade, Dr. Andrysek has been making groundbreaking contributions to the design, development and global provision of advanced mobility devices for children, youth, and adults with lower limb impairments. In 2014 Dr. Andrysek founded LegWorks and commercialized a novel, high-functioning, multi-patented prosthetic device called the All-Terrain-Knee (AT-Knee). The AT-Knee has made a life-changing impact on over 2,000 amputees in over 40 countries including Canada, United States, Mexico, Nicaragua, El Salvador, Argentina, Brazil, Chile, Colombia, Cambodia, Myanmar, Australia, Fiji, Russia, Uganda, Tanzania, Ethiopia, and most of Europe.
"Eunice was traveling to see her sister in another town in her home country of Ghana. On the way, she was involved in a car accident that badly injured her leg. Eunice's parents could not afford a new leg. Fortunately, she received a new leg from We Help Two, a partner clinic of LegWorks, at no cost. With her newfound mobility, Eunice was able to return to school, and dreams of becoming a doctor to help others like her." (testimonial from Eunice, Ghana).
"Brian is a young bilateral above-knee amputee from Florida, who started using the All-Terrain Knee when he was just 12 years old. With the All-Terrain Knee Premium, Brian is able to enjoy his pool, play sports, mow the lawn, and help his grandmother garden." (testimonial from Brian, United States).
"With the AT-Knee and LegWorks, it is our goal to provide universal access to better prosthetic care for individuals living with amputations around the world," says Dr. Andrysek. "We want to make high-quality and well-functioning prosthetic devices affordable and accessible for the many individuals whose needs are currently left unmet."
In addition, Dr. Andrysek has made significant contributions to public policy advocacy in medical and biomedical engineering. Currently, his team is collaborating with international partners including Exceed Worldwide (Cambodia) to generate evidence to inform local funding and treatment policies. With the Muhimbili Orthopaedic Institute (MOI) (Tanzania), Dr. Andrysek's team is leading efforts to implement policy change in sub-Saharan countries to reach those most in need of prosthetics.
"Dr. Andrysek's scientific contributions have made a life-changing impact on the lives of amputees across the globe," says Dr. Tom Chau, vice-president of research, Holland Bloorview. "He has effectively engaged local communities in some three dozen countries and has worked with thousands of individuals with lower limb amputations to restore their mobility. As a new member of the College of Fellows, Dr. Andrysek is actualizing a vision of a future of no boundaries for all children, youth, and families with a disability. He has given Canada an international voice in the field of medical and biological engineering; informing funding and policies, and building capacity globally among prosthetists, physical therapists and other health professionals who provide care to amputees. I look forward to many more discoveries and innovations from Dr. Andrysek and his team!"
Dr. Andrysek holds numerous accolades, including the 2017 Ontario Profession Engineers Medal for Research and Development and the Clifford Chadderton Award for Prosthetic and Orthotic Research (2007). His artificial prosthetic knee joint is listed in the World Health Organization (WHO)'s compendium of innovative health technologies for low-resource settings (2013) as addressing the prominent health issue for individuals who have had their leg(s) amputated above the knee joint. His work has directly addressed the needs of diverse, marginalized and low-income populations with amputations across the globe.
Academically, Dr. Andrysek has taught courses on prosthetic technologies and prosthetics and orthotics at the University of Toronto. Over the last thirteen years, he has supervised 82 trainees worldwide. His training efforts have invariably contributed to the diversity of the engineering profession.
"Dr. Andrysek's incredible passion for helping people, especially those individuals with limb amputation, has inspired me to believe that with hard work and dedication, nothing is impossible, even in the most adverse situations. His leadership and creativity has helped me to find possibilities, not difficulties. Influence from these qualities has positively impacted my academic and personal life," says Rafael Escamilla Nuez, PhD candidate, clinical engineering, Holland Bloorview.
The AIMBE College of Fellows consists of over 2,000 individuals who are outstanding bioengineers in academia, industry, clinical practice, and government; and who have distinguished themselves through their contributions to research, industrial practice and/or education. Fundamental to their achievements is the common goal of embracing innovation to improve the health care and safety of society.
Candidates elected to the College of Fellows are inducted at AIMBE's Annual Event, held on March 24 and 25, 2019 in Washington, D.C. The induction ceremony occurs today, Monday, March 25, 2019 at the National Academy of Sciences. Learn more here.