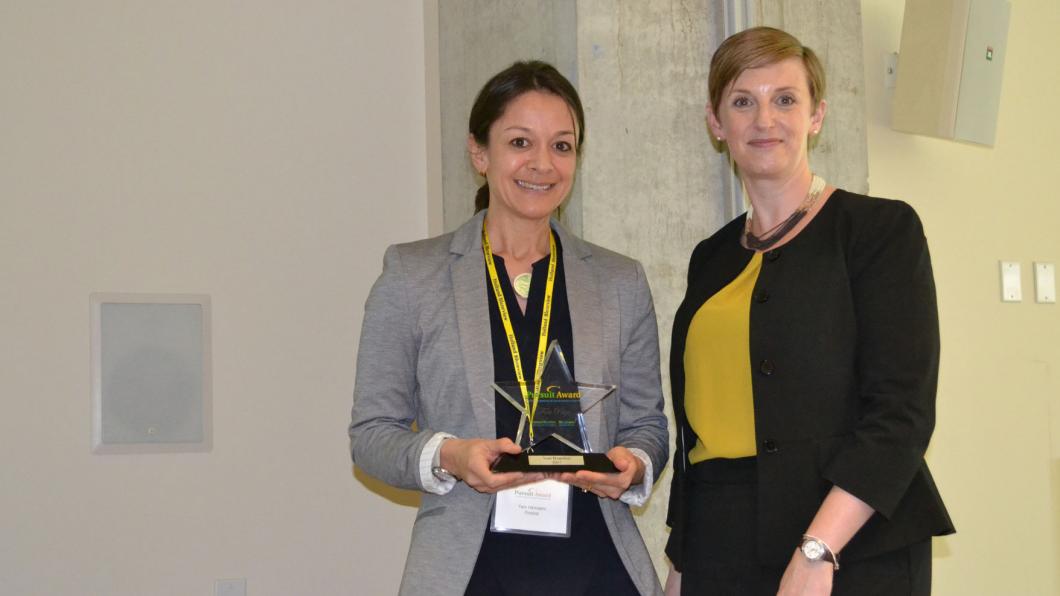 Dr. Hamdani recognized at 2017 Pursuit Awards for her research in advancing the health and wellbeing for youth with developmental disabilities
Dr.Yani Hamdani is no stranger to Holland Bloorview. She previously worked at thehospital as an occupational therapist and was involved in its LIFEspan Service, developed with UHN-Toronto Rehab to help youth and young adults with childhood-onset disability transition to adultservices. Her latest achievementat Holland Bloorview was being awarded first place winner during the 2017 Pursuit Awards in May.
With generous support from the Ward Family and Holland Bloorview's research institute, the annual Pursuit Awards recognizes PhD students from across the globe for their outstanding achievements in childhood disability research. Finalists are chosen based on significance of research results, methodologic rigour, empirical content and impact on childhood disability care. This year, Dr. Hamdani's research was one of three projects chosen from the PhD students who are making incredible contributions in the field of childhood disability.
"The basis of my PhD research was to examine how transition to adulthood for young people with a disability is problematized in public policies in Ontario, and the implications of this for these youth and their parents," says Dr. Hamdani.
Using a unique, critical approach that comes from the social sciences, Dr. Hamdani's research examined policies on rehabilitation, education and developmental services in Ontario, as well as interview transcripts of 13 parents of young people with a developmental disability. She found youth with a developmental disability and their families are often marginalized and experience disadvantages because of preconceived assumptions about 'normal' adulthood and Western ideas about success,including working and independent living.
"I'm truly honoured to have been recognized for the unique value of my research toward a more enriched and advanced understandings of childhood disability over the life course," says Dr. Hamdani. "I hope my research will contribute to a new lens for understanding health and well being for young people with a developmental disability, and I'm committed to advancing the health and well being of all young people and their families."
Dr. Hamdani would love to see policies and transition programs embrace diversity and view disability as a dimension of difference instead of focusing on what is'normal'. She recommends developing programs and services that support people with developmental disabilities and their families over their whole life course, as opposed to a service transfer from children to adult services.
Dr. Hamdani's journey at Holland Bloorview will soon come full circle. She will complete her postdoctoral work with Dr. Amy McPherson, which will focus on understanding what health and wellness looks like for children and youth with intellectual and developmental disabilities from a more holistic perspective, in partnership with Special Olympics Ontario and Special Olympics Canada.
"I'm excited to embark on this new research journey with Dr. McPherson, and am looking forward to linking it with my current work at the Centre for Addiction and Mental Health (CAMH) under the supervision of Dr. Yona Lunsky," says Dr. Hamdani.
Congratulations, Dr. Hamdani, and we look forward to welcoming you back to Holland Bloorview!