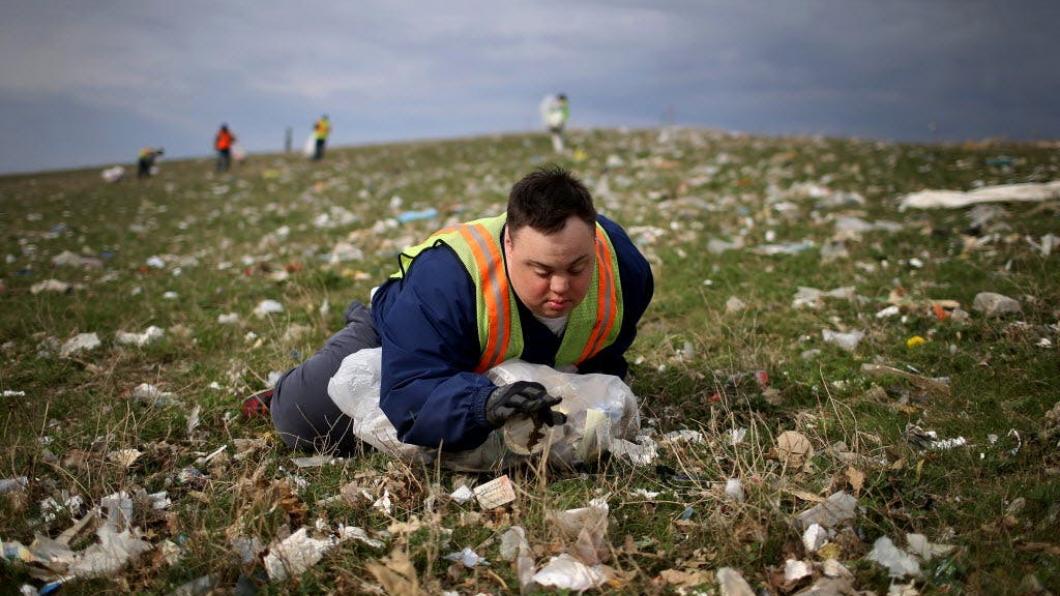 Investigative reporting on disability puts Star Tribune ahead of the pack
Photo by David Joles, Star Tribune
By Louise Kinross
This image of Scott Rhude lying in a field of garbage where he was picking up trash for $2 an hour has never left me.
It was one element in a five-part 2015 investigative series by Minnesota's Star Tribune on how the state was failing adults with disabilities by consigning them to segregated workshops and remote group homes. The series—A Matter of Dignity—brought together compelling personal stories like Scott's, with meticulously researched data on Minnesotans with disabilities, including county and state comparisons. It won a number of national awards, including first place for public service in the National Headliner Awards, one of the oldest and largest national journalism competitions, and top honour in the Katherine Schneider Journalism Award for Excellence in Reporting on Disability.
Now the Star Tribune is wrapping up a seven-part series called Chaotic Care, about the arbitrary way in which Minnesota distributes more than $3 billion for services to people with disabilities through Medicaid waivers. County policies on allocating the waivers vary wildly, and the paper notes there are nearly 60 "waiver deserts"—counties  that have given zero waivers, or only a few, in the last five years, for people with high medical needs.
Every day, as editor of BLOOM, I track mainstream stories that touch on disability around the world. Rarely have I seen this kind of deep and comprehensive coverage. I interviewed Chris Serres, one of two social services reporters who worked on the series.
BLOOM: How do you get the resources to do such sweeping, multimedia series? We don't see this commitment to disability justice in other North American newspapers.
Chris Serres: That's a really good question. Disability issues have been a major priority here for about six years. Part of what prompted that is that we're one of the few newspapers in the country that has a dedicated social services beat. For us, social services is a distinct area, covering our most vulnerable populations, including people with disabilities, seniors, and people with mental-health problems. I suspect a lot of newspapers that are similar in size—like St. Louis or Seattle or Miami—simply don't have that.
BLOOM: How many staff work on the series, and over what time period?
Chris Serres: There are upwards of 10 people, both for the print issue and online. There are two reporters, a dedicated photographer, several graphic designers, a page designer, and digital people.
Usually, the trajectory, from the idea being talked about in the newsroom and actually appearing in print, is about nine months. So the actual heavy lifting of working on the series and getting it done for print and online happens from March to the end of the year. Of course we're doing other stories while we're working on the series. It's a bit of a scramble, because we still have daily and breaking news to report on.
BLOOM: Do either you or Glenn Howatt, the other reporter, have a personal connection to disability?
Chris Serres: I have a father with a traumatic brain injury, and certainly cousins and friends with mental-health problems. I think it helps, definitely, to have that personal experience with the health-care system. But I think it would be even more helpful if the people involved in the project had disabilities. Maybe the fact that Glenn and I don't have disabilities was a hindrance—it probably was.
BLOOM: As the parent of an adult with disabilities, that photo of Scott Rhude lying in a field of garbage was hard to bear. What is the emotional toll of this kind of reporting for you?
Chris Serres: I'd have to ponder that one. I'm not really sure I've plumbed those depths, to be honest. You become increasingly concerned about people who aren't getting the services they need, and that can wear on you, and guilt is a motivator in wanting to correct that.
Of course, you end up spending a lot of time with people, and their stories become extremely abbreviated, very shortened. You don't get the opportunity to tell their full story, and that's difficult. You'd like to be able to tell their entire story. But if you did that for everyone, there wouldn't be enough room.
We're trying to fix the system. Ultimately, the people who are letting us into their homes are expecting change. Knowing that they're getting something out of it, hopefully—that helps to address any kind of negative emotions you may have.
BLOOM: What's the greatest challenge of producing these series?
Chris Serres: Probably trying to balance the policy with the human stories. If you only tell anecdotes of people who are struggling, that's not enough. You have to make sure you balance that out with real data that shows actual impact. Melding examples and numbers together, in a way that's coherent, can be really difficult.
Chris says he's working on a story about how the paper's disability series have produced change. We'll link to it when it appears.