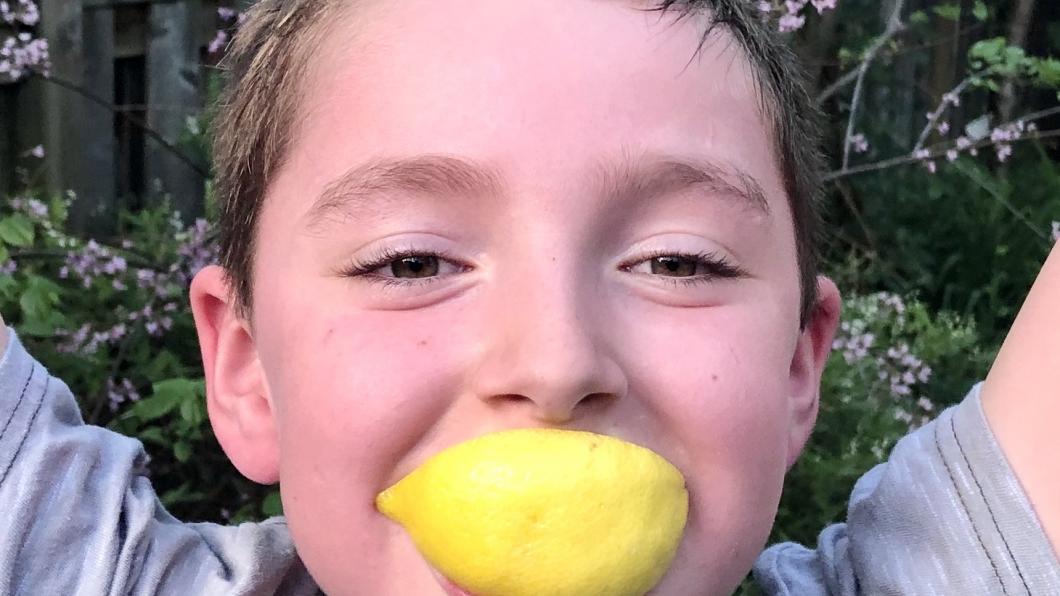 Story
Making a difference one Sour Lemon Face at a time
Most kids don't get excited about doing math over the summer. But for Artun, counting the cash he raised through Lemonade for Possibility motivated him each day to try to earn more.
For two summers in a row, the ambitious 10-year-old hosted a lemonade stand outside his mother Emel's orthodontic clinic.
And thanks to creativity, some impromptu magic tricks, the option of two flavours, and such a positive community, Artun eventually raised more than $600 for Holland Bloorview.
 
How are you familiar with Holland Bloorview?
Emel: I'm an orthodontist and we have an orthodontic practice in the neighborhood. Some of our patients are dental patients at Holland Bloorview. They're evaluated at the hospital and then sometimes they're being sent over to our practice for more comprehensive treatment.
Why did you decide to participate in Lemonade for Possibility?
E: We started it two years ago. I have three kids and I was able to sign two of them up for a summer camp, but unfortunately Artun didn't have anything to do. So, he was hanging around the office doing nothing and we decided he should put his time into good use. I asked him, "How about you sell lemonade in front of the office?"
But I didn't want him to sell it just for a profit. We looked around to see what we can do to help raise funds for a charity or hospital. And that's how we discovered Lemonade for Possibility.
And our neighborhood was very responsive—people were giving him anything from 50 cents to five dollars or 20 dollars for lemonade. He even added some magic tricks to make it a little bit more fun. I was really surprised to see such a great response.
What kind of lemonade were you selling?
Artun: Sometimes I sold regular lemonade and sometimes I sold raspberry lemonade.
E: We are also located in a busy area, with lots of storefronts so we had a lot of traffic. And Artun really designed the table and put up the signs and everything so it was quite visible.
A: I made one sign saying Lemon+AID and another that said all donations go to Holland Bloorview.
And you've done it for two years! What motivates you for continuing to support Holland Bloorview?  
E: It's Artun's Lemonade Stand for Holland Bloorview and we just want to do it annually. I think it's also sets an example for the neighborhood kids, too. It shows them how they can use their time to make a difference.
And Artun, what was your favourite part about hosting a lemonade stand?
A:Learning to count money was one of my favourite parts. And then sometimes refreshing myself with a lemonade!
 
---

This year Artun showed off his #SourLemonFace! Will you show yours?
Gifts to Lemonade for Possibility make a world of difference for kids with disabilities.
Your support funds vital research, programs, and services at Holland Bloorview that transform the lives of kids with disabilities and their families. Find out how you can support Lemonade for Possibility here.
Call to action Text
Support Lemonade for Possibility today!
Find Out More