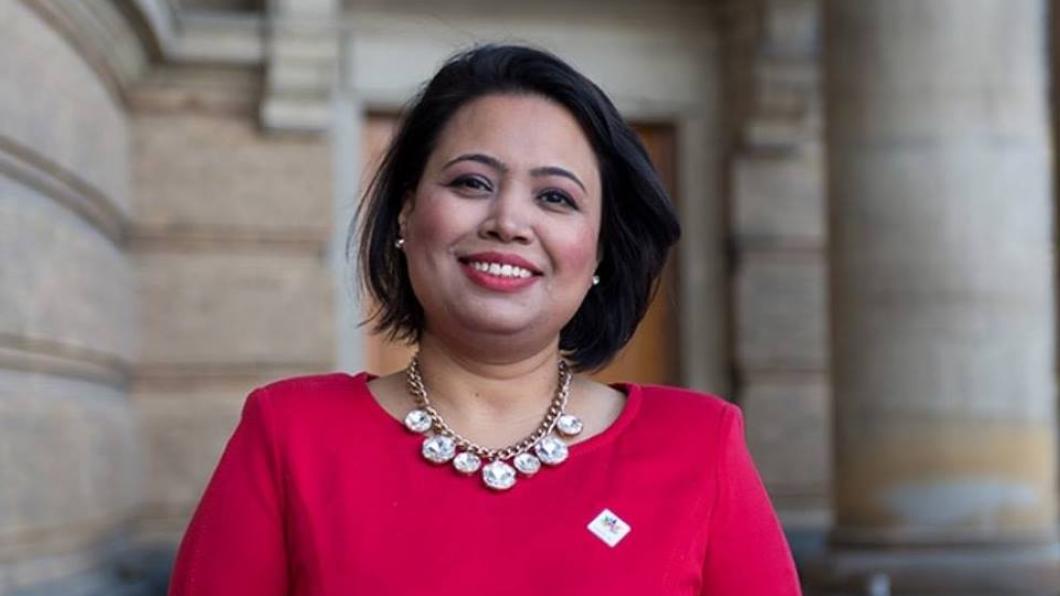 Holland Bloorview family leader receives inaugural award
Payal Khazanchi honoured with first Canada-wide MacNaught-Taillon Emerging Patient Leader Bursary
Payal Khazanchi, a family leader at Holland Bloorview Kids Rehabilitation Hospital, is the co-recipient of the inaugural MacNaught-Taillon Emerging Patient Leader Bursary. The award honours up-and-coming leaders in health informatics and/or health policy, and offers support for further training, research or education. Payal's work is grounded in harnessing the strengths of children with special needs and helping parents, especially immigrants, navigate the Canadian healthcare system.
"I was a little surprised and shocked to learn I'd won, because this is a Canada-wide award, and I've always thought that I've just been volunteering to help people who are in similar situations. It took me a couple of days to let the news sink in," says Payal, who immigrated to Toronto with her family from Oman in 2012. "It's humbling that my work in this field has been recognized, and I feel honoured that the bursary has been bestowed upon me for a concept in care that sounds innovative, yet is so ingrained in common human compassion—seeking the better and enhancing the brighter side of another person, in this case a child with special needs."
Payal's relationship with Holland Bloorview began in 2018 through the Family Leadership Program, a network of volunteers that works to improve policies, programs and services, and promote client- and family-centred care. She visited the hospital to seek care for her daughter Aakanksha, first for dentistry appointments but later for therapeutic services she says have been very beneficial.
Connecting with Holland Bloorview parents, especially those new to Canada and accessing the healthcare system for the first time, drove Payal toward a master's in adult education and community development at the Ontario Institute for Studies in Education at the University of Toronto. She has recently graduated from the program, which included a practicum at Holland Bloorview—a pilot project design for pairing children with special needs so they can support and enhance each other's strengths while building a strong social network within their peer group. This underscored the importance of taking a positive approach, which Payal says should extend beyond the children involved to include parents and caregivers.
"The tagline I used in my practicum was 'shift the perspective from what is wrong to what is strong'. That is where we as parents and caregivers need to shift, because whatever the issues are in a child or in a diagnosis, those are best told by doctors. As caregivers, we need to focus on the strengths and the potential a child has. I think that's a very important role that a parent plays in a child's life," she says.
Looking back on when she joined the Family Leadership Program, Payal says she had two reasons. "One was to learn and educate myself as a newcomer and parent on the services available. The other piece was my own strong belief that helping hands are better than praying lips; if someone else in a similar situation can use my experience to make their healthcare journey easier with less obstacles and more awareness, I am more than willing to help," she says.
As she considers the MacNaught-Taillon Emerging Patient Leader Bursary, Payal says the unwavering support and encouragement of the Family Leadership team were important factors in her success.
"[The award has] made me feel more responsible, and it validates what I've been doing," Payal says. "If a newcomer like me can navigate the healthcare system and learn so many things, maybe it'll allow others to look beyond their issues, their challenges, and connect with people—see their own potential as family caregivers, and see all that their child can do in Canada."
Payal shares the honour with Kim Daley, whose efforts focus on bringing the patient's voice to the healthcare system.
Established in 2008, the MacNaught-Taillon Award—named after Don MacNaught and Serge Taillon, who made outstanding contributions to the Canadian healthcare system—is handed out every three years in recognition of leadership in health policy, health information and health informatics.
Learn more about the Family Leadership Program.