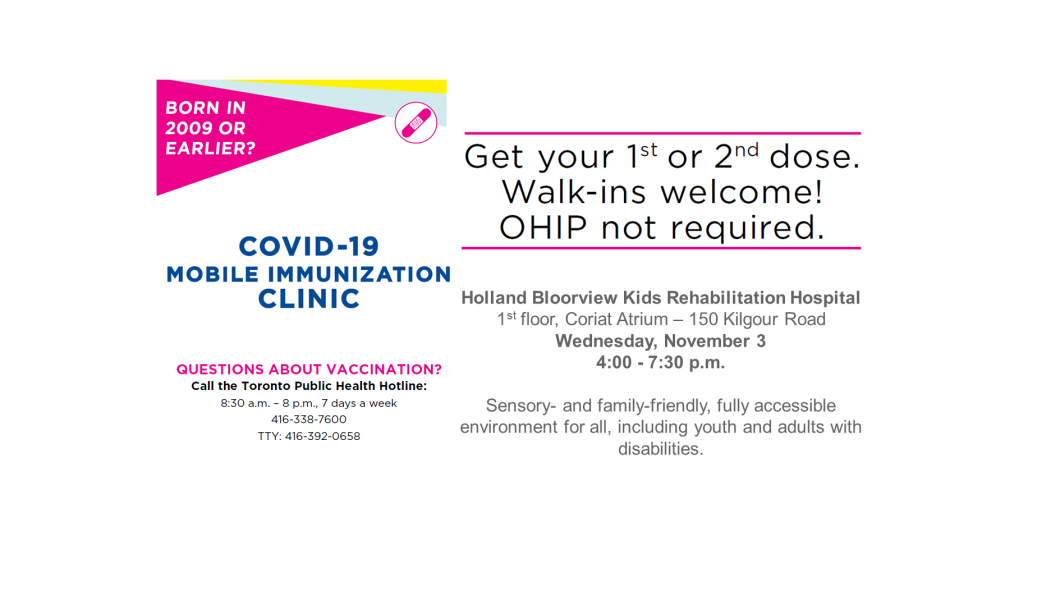 New upcoming vaccine clinic at Holland Bloorview
Join us on Wednesday, November 3 for a first or second dose
We are excited to share another upcoming vaccination opportunity right here at Holland Bloorview Kids Rehabilitation Hospital in partnership with Toronto Public Health!
On Wednesday, November 3 from 4:00 to 7:30 p.m., we welcome anyone born in 2009 or earlier, including youth and adults with disabilities  looking for a sensory-friendly, family-friendly and fully-accessible environment to get their COVID-19 vaccine. Join us for a first or second dose in the Coriat Atrium on the main level of the hospital. We are especially excited to welcome back anyone who received their first vaccine dose during our October 12 vaccine clinic!
Holland Bloorview is happy to offer a quiet space to those who need. Please speak with a staff member onsite to help you access this space.
DETAILS:
Where: 1st floor, Coriat Atrium at Holland Bloorview Kids Rehabilitation Hospital, 150 Kilgour Road
When: Wednesday, November 3, 2021 from 4 p.m. – 7:30 p.m.
How: Walk-ins are welcome. You can also sign up to register for a vaccination appointment.
Who: Anyone born in 2009 or earlier including:
Youth and adults with disabilities
Inpatient clients and their essential caregivers
Outpatient clients and their family members
All staff and students working on Holland Bloorview premises
Kindercircle and Bloorview School Authority families
All contractors, renovators, construction workers and vendors who attend Holland Bloorview in any capacity.
What:
Toronto Public Health is running a vaccination clinic that will have both the Moderna vaccine (SPIKEVAX™) and Pfizer vaccine (COMIRNATYÔ ) available onsite.
Those aged 12-24 will be recommended the Pfizer vaccine while others will have a choice of vaccine. First or second doses available.
Second doses can only be administered after 21 days of first Pfizer dose, or 28 days after first Moderna or AstraZeneca dose.

Please plan extra time for screening when arriving and 30 minutes of observation following your vaccination.

More information: