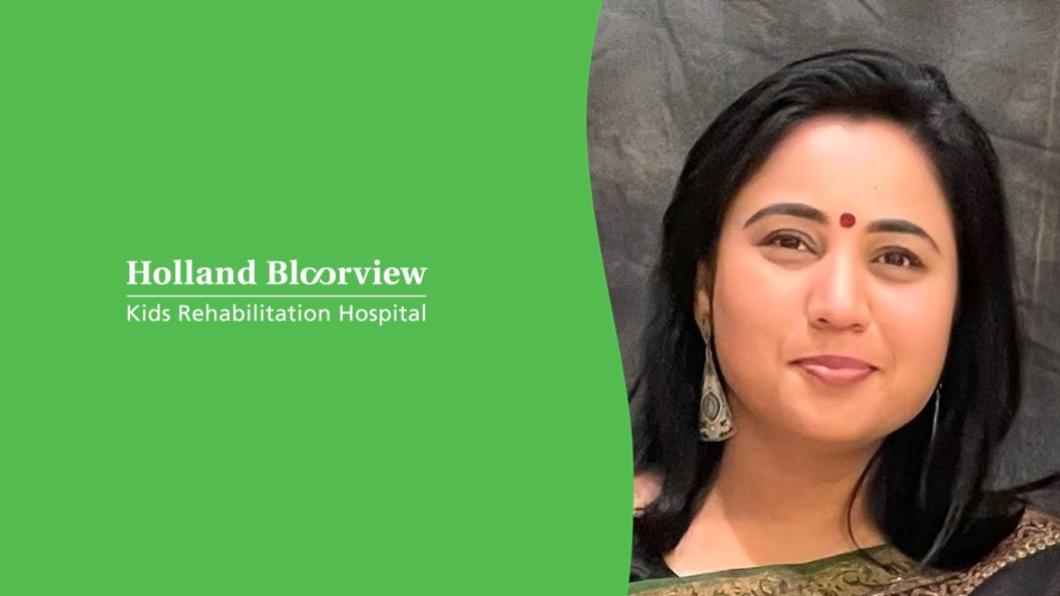 Holland Bloorview family leader wins the 2022 Children's Healthcare Canada (CHC) Award for Patient and Family Leadership
Holland Bloorview Kids Rehabilitation Hospital is thrilled to congratulate family leader, Gunjan Seth, recipient of the 2022 Children's Healthcare Canada (CHC) Patient and Family Leadership Award.
The award was created to recognize outstanding leadership by a patient, parent or caregiver who has served to improve the patient and family experience for those accessing pediatric health care in Canada. The award is presented to an individual who has exemplified courage, commitment and resilience in promoting systemic change at local, regional and/or national levels.
"I am very thankful to CHC for this prestigious award," says Gunjan.  "My words are not enough to express my deepest gratitude and I look forward to continue creating a world of possibilities for our amazing clients and families."
"Gunjan has been an inspiring, stellar, and authentic family leader, caregiver and advocate in family partnership and engagement across the hospital and health system," says Clara Ho, manager, client and family-centred care & partnerships at Holland Bloorview. "She has continuously played a key role in co-designing and co-facilitating many family-support events, advocating for caregiver mental health supports, and creating an environment where families feel safe and comfortable to share their questions, hopes, challenges and successes. A huge congratulations to her for this so well-deserved award."
Gunjan has been a family leader at Holland Bloorview since 2014, and is currently the co-chair of the family advisory committee. She is also a "family as faculty" co-facilitator of the hospital's Parent Support Network and the student-led Family Navigation Hub. Family as faculty facilitators bring family and client voices to educational settings—whether in a school, a workshop, or a presentation.
In addition, she has helped co-design and facilitate mental health supports for newcomer families and has been instrumental in the establishment of multiple client and family support programs at Holland Bloorview. Recently, she became a family mentor where she provides 1:1 peer support to Holland Bloorview caregivers and families, and is a family moderator of the HB Family Support Network.
Gunjan also plays an active role in teaching and training students on placement at Holland Bloorview in student-led learning environments and inter professional education workshops, partnering with our teaching and learning team to instill the core values of client and family-centred care into the student's learning. She is one of the two family as faculty involved in co-designing a student-led environment for delivery of virtual autism supports for wait-times  program, providing support and services to the parents/caregivers of children with autism in northern Ontario. Additionally, she is one of six family as faculty co-teachers of the University of Toronto's Masters of Social Work course in disability and social work practice.
Gunjan is passionate about sharing her lived experiences. We recently interviewed her about her involvement with Holland Bloorview and her role as a family leader.
What inspired you to become a family leader at Holland Bloorview?
I became a family leader eight years ago. My son has autism and I have an accessibility barrier. I am very passionate about creating awareness about barriers that many families face when they enter any system and how we can bridge the gap. We have to acknowledge those barriers and listen deeply to what our families and clients are saying. We need to listen to their barriers along with the challenges and struggles they are facing. This could include language barriers, cultural barriers and norms or accessibility barriers.
I struggled a lot as an immigrant. I used to spend eight hours a day exploring the internet, looking for services and support systems. Because of my struggles, I needed to do something to raise awareness about the challenges parents and families face so we could support them against those barriers and meet their needs. I am advocating for a system that is easily accessible in all ways to everyone. If we have an accessible system, we'll improve the quality of life of families. I want everyone, every family, every child, every individual, to live a good quality life. This is my passion, raising awareness of those barriers. This is the reason I partner with Holland Bloorview.
Why Holland Bloorview?
Holland Bloorview welcomed me and made me feel included. They have built a system that can easily embrace everyone – a welcoming, loving, inclusive culture, where we have equitable access to services. Whenever I talk to anyone there - clinicians, health workers, staff - they make me feel very much included, welcomed, supported and safe. I feel that I can share my authentic life experiences and I'm sure this has a positive impact on many families.
Why is it important to be a family leader?
If we don't keep raising awareness about barriers, challenges and struggles and create meaningful authentic partnerships, we cannot have a system which is accessible to everyone and can actually support everyone's mental health.
What has been the most rewarding part of playing this role?
When my voice can impact other people who are experiencing many barriers, challenges and struggles, and there's some improvement in their quality of life, that gives me happiness. I always look forward to bringing a smile to people's faces, even the staff and the clinicians I interact with. I really want to make them feel special, because they are amazing and they are working tirelessly for families. When we acknowledge their emotions and make them aware of how important they are to our well-being, that brings me joy.
Is there any memorable event or something outstanding you've experienced as a family leader that you would like to share with us?
I remember I was co-facilitating a new comers' support session recently and there were many immigrants attending those sessions. Some families who attended were crying. They said that no one ever asked them how they were feeling. They felt that we provided a safe space to share their authentic experiences. That was an amazing experience for me because I felt that I did something amazing to make those families feel included in our system. I created a sense of belonging for them.
Do you have some words of advice to other family leaders?
I have deep respect for all other family leaders at Holland Bloorview. They are working tirelessly and they are trying their best, within limited time, to support our system. I can simply say that compassion, gratitude and authenticity is critical to us as family leaders. I always feel that when you have a deep compassion for others and you are really keen on creating authentic partnerships with them, you create a system which is embracing everyone. I think that when we partner with each other with authenticity, compassion and shared gratitude, and also acknowledge our emotions, we create a very welcoming safe space and improvement in our health system.
What does this award mean to you?
I'm very grateful to Holland Bloorview for nominating me for this award. There are many deserving family leaders and patient partners in Canada who are working tirelessly to improve the lives of many families and clients. It is a great recognition to me and I'm deeply grateful to Holland Bloorview for the recognition. I have worked for 10 years advocating for families. When I see the impact I made in the lives of families and when I see that people use my example as a proud immigrant, I am truly honoured.
Would you like to add any other comments?
My message to other immigrants coming to Canada is that you have the right to share your authentic experiences and raise awareness about them. Do not be scared to share your experiences because sharing authentic experiences leads to improvement in services.
Also, I am very excited to see engagements and partnerships happening at Holland Bloorview about improvement in services. Right now at Holland Bloorview, we are working on a five-year strategic plan. This gives me so much energy and so much happiness that we acknowledge the barriers, challenges, struggles and conversations surrounding these issues. When I attend family and faculty workshops, I see clinicians are using our language now. They are embracing us and creating a sense of belonging. They are working hard. I see they're acknowledging everything we are talking about within the system. I am very excited that my voice is being heard. I notice a positive change, and I notice the impact of our conversations inside and outside Holland Bloorview.
Another important message I have is that many parents are very dedicated to taking care of their loved ones and because of this they ignore their own health. I am hoping for a system that lays the foundation to talk about self-care, emotional well-being and the mental health of parents and caregivers so they can continue supporting their loved ones and avoid burnout. This is a very important message I always share because I am very passionate about raising awareness so our system can have a strong foundation of self-care and mental health support for parents and caregivers at the beginning of their journey.
Finally, I am hoping to go back to school and study more. Learning is like food to me! I always embrace learning, it makes me feel alive!