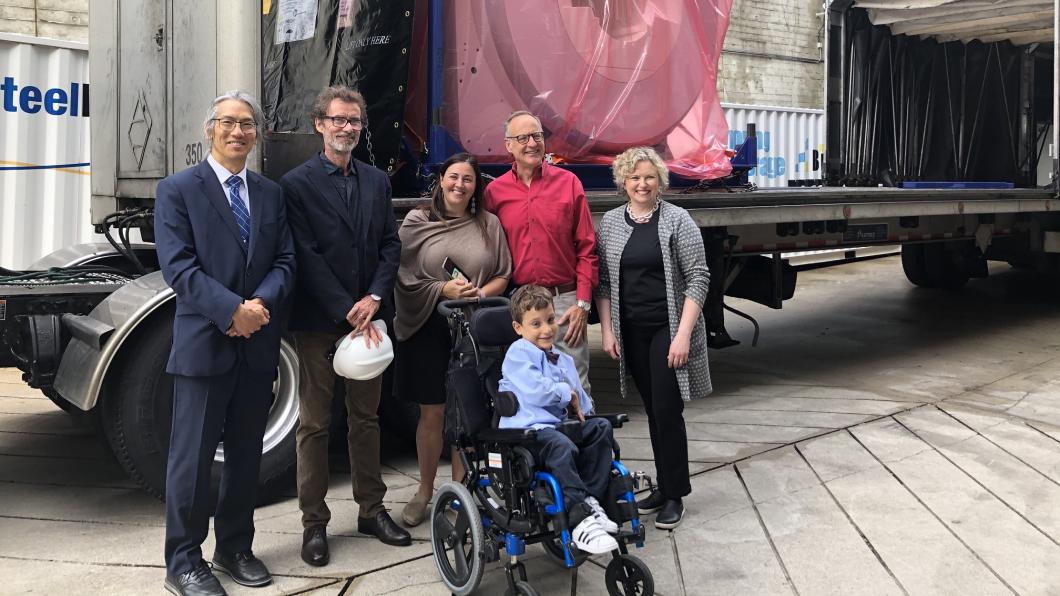 Holland Bloorview celebrates arrival of research MRI unit
TORONTO, ON (September 28, 2019) – Today Holland Bloorview Kids Rehabilitation Hospital (Holland Bloorview) celebrated the arrival of its research MRI, which will be housed in a soon-to-be built world-class MRI suite. This MRI suite will be the first in Canada to be immersive, customizable, child-friendly and fully accessible, and is poised to accelerate research into child and youth brain function.
"Holland Bloorview's new research MRI will unlock a new world where we can access secrets surrounding our thoughts, emotions, and actions," says Dr. Tomáš Paus, distinguished senior scientist, Holland Bloorview. "This new research tool will be critical for us to determine how brain development cascades through its stages – from infancy to childhood, adolescence and young adulthood."
The MRI installation is part of the hospital's Grow Holland Bloorview Research campaign designed to spark investment in infrastructure, technology and people as a means to transform the future of childhood disability research. The campaign is entirely funded by community donors. The MRI will be used exclusively for research purposes and will allow imaging scientists at Holland Bloorview to scan hundreds of children and youth with and without disability in large-scale studies. Outcomes from this research will have the potential to guide development of treatments for children with disabilities in Canada and the rest of the world.
The MRI suite will be fully accessible and will include assessment and waiting areas designed to put children and families at ease with a customizable immersive environment. It will also feature child-selectable lighting, images, and projections to create a truly unique experience for each individual undergoing a MRI scan.
"Having the new research MRI suite will make participating in research not just more accessible for families like mine – but also way more fun," says Susan Cosgrove, a mother of three children with neurodevelopmental conditions. "The concept and design behind the suite was created together with families and has all of the little touches to make the experience enjoyable for kids and youth undergoing a scan." 
"The community is so fortunate to have access to this research MRI suite, right in their own backyard," says Janis Rotman, long-time donor. "Brain research is vital in improving the quality of health care for all and this knowledge will better the lives of everyone. To me, there is nothing more crucial than helping children in need. It's a responsibility I take very seriously."
Live operation for the new research MRI is expected by the end of 2019. Learn more about the new research MRI suite and the Grow Holland Bloorview Research campaign at: hollandbloorview.ca/growbri.
---
About Holland Bloorview Kids Rehabilitation Hospital
Holland Bloorview Kids Rehabilitation Hospital creates a world of possibility by supporting children and youth living with disability, medical complexity, illness and injury. Holland Bloorview is a top 40 Canadian research hospital that is fully affiliated with the University of Toronto and serves over 7,500 families annually. Providing both inpatient and outpatient services, Holland Bloorview is renowned for its expertise in partnering with clients and families to provide exceptional care and is the only organization to ever achieve 100 per cent in two successive quality surveys by Accreditation Canada. Holland Bloorview is a founding member of Kids Health Alliance, a network of partners working to create a high quality, consistent and coordinated approach to pediatric health care that is centred around children, youth and their families. For more information or to donate, please visit hollandbloorview.ca or connect on Twitter, Facebook, Instagram, LinkedIn and parent-blog BLOOM.
About the Bloorview Research Institute (BRI)
Housed at Holland Bloorview Kids Rehabilitation Hospital, the Bloorview Research Institute (BRI) is internationally recognized for its dedication to and leadership in improving the lives of children with disabilities and their families through client and family-centred rehabilitation research. It brings together a multi-disciplinary team that works collaboratively with clinical staff, students, clients, and families to conduct world-class, applied clinical research.
---
For media inquiries, please contact:
Ashley Cruz
Senior Media Relations Specialist
Holland Bloorview Kids Rehabilitation Hospital
acruz@hollandbloorview.ca
T: 416-425-6220 ext. 6409 | C: 647-406-3567