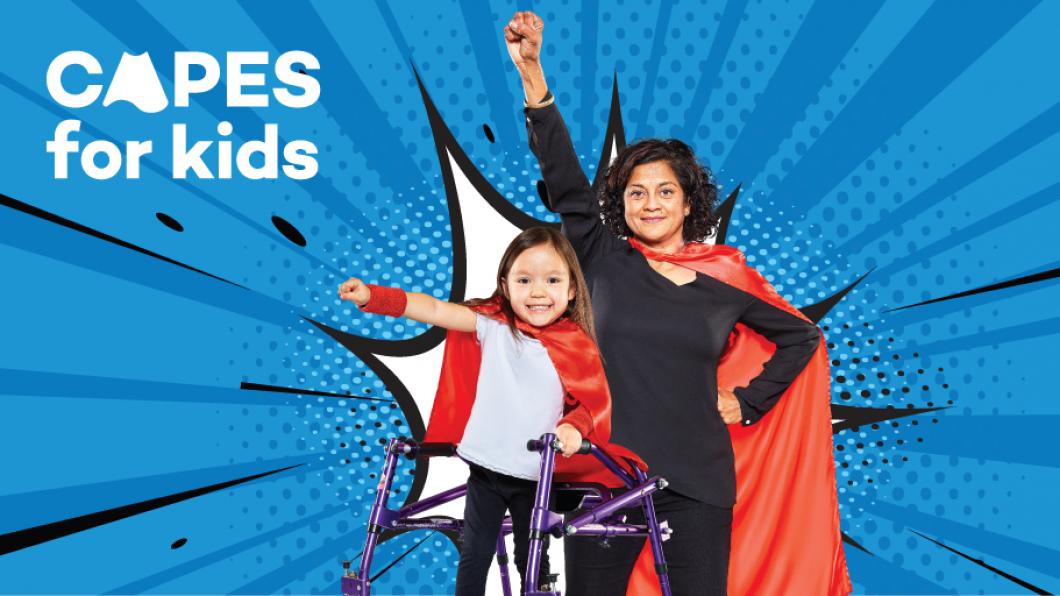 Holland Bloorview Kids Rehabilitation Hospital launches its fifth annual Capes for Kids fundraiser
Holland Bloorview invites fundraisers to wear their capes and join forces virtually from March 1-7 to support kids and youth with disabilities
TORONTO, ON (March 1, 2021) – Holland Bloorview Kids Rehabilitation Hospital (Holland Bloorview) kicks off its fifth annual Capes for Kids fundraising campaign, presented by BMO, to support kids with disabilities and their families. From March 1-7, 2021, fundraisers across Canada are asked to don superhero capes as a way to celebrate hitting their fundraising goals. The capes also function as a visual cue to help spark conversation around childhood disability and inclusion. Since 2017, the campaign has raised over $2.45 million for education, research and care at Holland Bloorview.
"While Capes for Kids is going to look a little different this year, we're just as excited – if not more – to see all the creative ways our fundraisers and their communities will come together to celebrate virtually," said Sandra Hawken, president and CEO, Holland Bloorview Foundation. "Kids with disabilities have been disproportionately affected by the pandemic and this year we're showing our immense gratitude to our donors, fundraisers and sponsors for joining forces with us to help fundraise for their most urgent needs."
This year's fundraising goal of $925,000 will build on the momentum of years past. Last year Capes for Kids exceeded its goal, raising $735,000. The funds raised will help support research and critical hospital programs and services that include but are not limited to:
Bloorview Research Institute (BRI), which focuses on enhancing care, developing assistive technologies, and evaluating barriers that restrict the inclusion of children with disabilities.
The Family Support Fund, which givesfinancial aid to families for special equipment, transportation, accommodations, medications.
The Independence Program (TIP), which gives young adults with disabilities the chance to live alone for three weeks and helps them develop valuable life skills.
Music therapy programs, which give kids and youth the chance to be social, artistic and creative.
Therapeutic Clowns that use music and comedy to help kids during certain procedures and therapies.
The Spiral Garden outdoor art, garden and summer camp program, which helps kids' imaginations bloom.

Anshu and Mohit's daughter, Rhea, is a client at Holland Bloorview whose seemingly harmless flu at age four caused her to develop acute necrotizing encephalitis (ANE), a rare condition that causes severe brain damage. She spent almost half a year learning how to walk, talk, eat and move her limbs again with Holland Bloorview's Brain Injury Rehabilitation Team.
"Rhea is now 10 years old and continues to access services at Holland Bloorview like occupational and physical therapy. During the pandemic, we found comfort in the relationship we've built with her care team over six years – if we had a question or concern, we knew we could just call them and get the support we needed," said Anshu. "Rhea is such a determined, hard-working and ambitious individual – she wants to be able to do everything that everyone else can do and more…and she works hard to reach this vision of herself. She needs all the support she can get to unlock her potential and it's wonderful to know that we have the team at Holland Bloorview to help us every step of the way in supporting Rhea to achieve her dreams."
Anyone can register to participate or donate at CapesforKids.ca. You can make your own cape or earn a Capes for Kids branded cape by raising your first $100 ($50 for children and youth). New this year:
When you raise $1,000 you can receive a limited edition gold cape
Virtual scavenger hunt taking place on February 28 and March 1 – fun activities and prizes for all!
Virtual events-in-a-box, like a movie screening, to support your fundraising.
Downloadable backgrounds for your Zoom calls and graphics for your social media channels

Capes for Kids is made possible through the generous support of donors, including Presenting Sponsor BMO, Captain Sponsor TD Bank Group and other sponsors Sonnet Insurance, CIBC, INFOR Financial Group, HGC Investment Management Inc., BASF and Gluckstein Lawyers. Special thanks to media partners Aber Group, Adapt Media, Horizon Media, Metroland, NewAd Media, Pattison Outdoor, Rogers Media, Toronto Life, and Toronto Star.
---
About Holland Bloorview Kids Rehabilitation Hospital
Holland Bloorview Kids Rehabilitation Hospital creates a world of possibility by supporting children and youth living with disability, medical complexity, illness and injury. Holland Bloorview is a top 40 Canadian research hospital that is fully affiliated with the University of Toronto and serves over 8,000 families annually. Providing both inpatient and outpatient services, Holland Bloorview is renowned for its expertise in partnering with clients and families to provide exceptional care and is the only organization to ever achieve 100 per cent in two successive quality surveys by Accreditation Canada. Holland Bloorview is a founding member of Kids Health Alliance, a network of partners working to create a high quality, consistent and coordinated approach to pediatric health care that is centred around children, youth and their families. For more information or to donate, please visit hollandbloorview.ca or connect on Twitter, Facebook, Instagram, LinkedIn and parent-blog BLOOM.
For media inquiries, please contact:
Ashley Cruz
Senior Media Relations Specialist
Holland Bloorview Kids Rehabilitation Hospital
acruz@hollandbloorview.ca
C: 647-406-3567