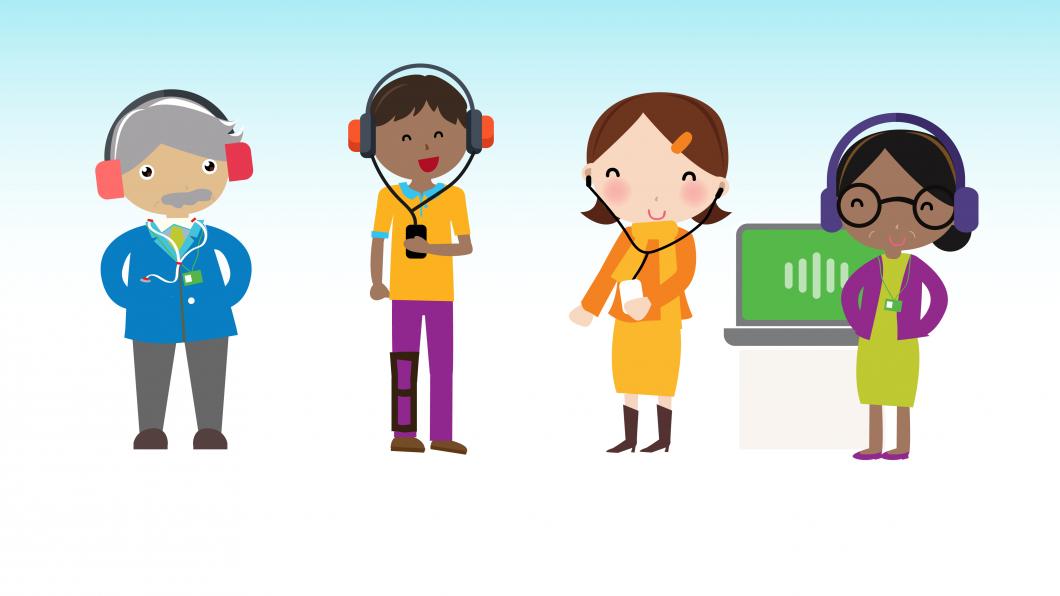 Connecting with you through HB Podcasts
Over the last several years, the power of podcasts to educate and bring communities of like-minded individuals together has lead to a surge of the use in the platform, from newsrooms across the world, celebrity voices to DYI radio enthusiasts alike. As means to build connections with its vast community during the COVID-19 pandemic, Holland Bloorview Kids Rehabilitation Hospital (Holland Bloorview) has now also delved into the medium, launching its first podcast today; Isofriendships (isolation friendships) on Soundcloud.
The podcast, a collaborative series created by Holland Bloorview Youth Leaders that explores what social connection means for youth living with disabilities. The launch coincides with International Friendship Day, which is recognized on July 30 every year.
Each of the seven episodes of Isofriendships were recorded by a different youth(s) who share their experience with friendship during social isolation. The creation of the podcast was generously funded by Barbara Underhill and the Stephanie Gaetz Keepsafe Foundation.
"I found the podcast to be very beneficial because it opened my eyes to what our lives are becoming during this pandemic.  It allowed me to make new connections virtually with people.  During the pandemic, it taught me how to quickly adapt from in person relationships to a virtual environment and relationship with people.  Making the podcast taught me how to use different technologies from home and how it sounds just as good as being in a recording studio." – Becca, Youth Leader
"The COVID-19 pandemic has affected my ability to see my friends and family.  So, when the opportunity presented itself to take part in this project, I jumped at the chance. It gave me an opportunity to see and connect with some of my friends and fellow youth leaders. I am also incredibly grateful to have done this project because it allowed me to share my experiences, both the positive and the negative, trying to maintain a connection with your loved ones and friends during the pandemic, when you cannot see them in person and you have to rely on technology. On a personal level, it has given me the chance to be creative, which I always appreciate. I am extremely proud to have been a part of this project." – Samantha, Youth Leader
Since the beginning of the pandemic, Holland Bloorview has significantly increased its virtual programs and services and found other creative ways to stay connected to clients and families who have been in isolation. From Clown TV featuring Holland Bloorview's therapeutic clowns and clients, virtual meet-ups facilitated through the Youth Engagement Strategy and virtual story telling by celebrities such as Canadian astronaut Chris Hadfield, TSN anchor Jay Onrait and children's author Andrew Larsen (to name a few) are just some examples of how the hospital has maintain connection with its community.
In addition to Isofriendships, Holland Bloorview will be launching a second podcast, ASD Engage on August 12, 2020. This unique weekly series delves into topics that are meaningful for parents and families of children and youth with Autism Spectrum Disorder (ASD), from those who are on the waitlist for an ASD assessment to families navigating through life after receiving a diagnosis. Featuring interviews and conversations with parents and specialists within the field of child development and ASD, including developmental paediatricians, psychologists, speech-language pathologists, occupational therapists, behaviour therapists, and social workers, listeners will have access to information from knowledgeable professionals and gain a sense of the joys and challenges experienced by families through caregiver stories. Episodes present the human side to assessment and diagnosis of ASD in an effort to empower parents and families and provide them with simple strategies that can be implemented into daily routines.