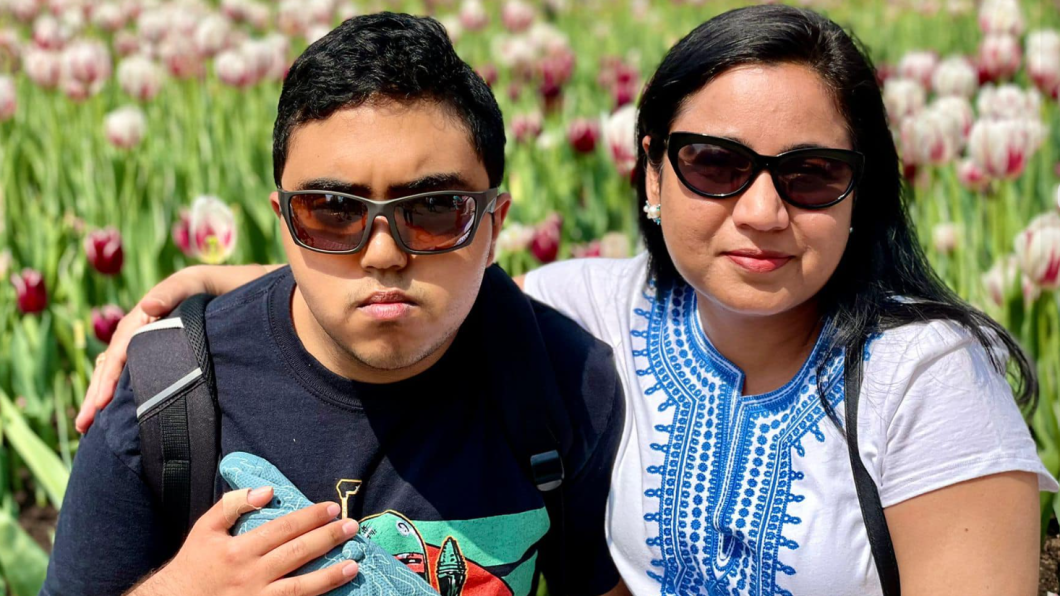 A mom and a mentor
Photo of Gunjan Seth (right) with son Ajay
By Louise Kinross
Gunjan Seth is a family leader at Holland Bloorview who mentors parents of children with disabilities. It may be providing one-to-one support, running group coffee chats or co-leading parent workshops.
Gunjan has one motivation: To ensure parents get the emotional and practical support she missed out on when her son Ajay, now 15, was diagnosed with autism.
Fifteen years ago, Gunjan and her family immigrated from India to New Jersey, where Ajay was born prematurely. Then, just before moving to Toronto in 2011, Ajay was given a diagnosis of Pervasive Developmental Disorder - Not Otherwise Specified (PDD-NOS).
"Imagine a person, new to the country, who doesn't even understand the term PDD-NOS," Gunjan recalls. While Gunjan spoke English, she struggled with the Canadian accent. "I used to listen so deeply, but think 'What are they talking about?'
"When you're new to a place, you're not aware of the social rules, so you're very scared to talk," she says. "Was I asking the right question? Would a clinician be offended? I struggled to even share my simplest thoughts."
Gunjan had no family or friends here and spent hours searching for services for Ajay on the Internet. "I felt very socially isolated," she says. "I was going through a lot of stress and a kind of depression and I was trying to work with Ajay, but there was no one able to support me. No one came and asked 'Gunjan, how are you doing?' I ignored my physical and emotional health."
An illness prompted Gunjan to recognize that she had to care for herself. These days that means: "Trying to be kind to myself, taking a small nap during the day, if possible, or a walk in nature, or some quiet time, listening to religious music that soothes my soul."
Gunjan trained for her family mentor role at Holland Bloorview. "I support mental and emotional health in parents so they can have a good quality of life," she says. "I listen to them, acknowledge their emotions, share some of my lived experiences, and connect them with resources and supports."
Gunjan aims to create what she calls "safe, brave spaces. I share my vulnerable experiences so they also get the courage to share theirs. They share their hopes, challenges and successes."
Gunjan says to be a good mentor you need to be honest, compassionate and a deep listener. "Parents are their own experts, and when you listen deeply you shine a light that helps them recognize the things that are working for them."
Parents are hungry for one-to-one conversations where they feel valued and included, Gunjan says. "We need to lay the foundation to talk about self-care, emotional wellbeing and mental health, so they can continue to care for their child and don't burn out."
She advises clinicians to think about "how to create a welcoming space. Please do not rush, or look at papers while you're talking, or look at the wall. Connect. Ask authentically: 'How are you doing?' 'What do you need?' If possible, guide them to resources."
Gunjan notes there may be cultural barriers to asking for help. "Sometimes there's a stigma to ask for support. Back home in India, people are scared to talk about mental health issues or a child with a disability."
Gunjan's son Ajay became a Holland Bloorview client in 2012, but it took her a few years to figure out all of the services available for him. "For example, it's easier for him to get dental check-ups here. Over time I found out about the Spiral Garden summer camp and arts and music programs and swimming. But when you're new, you have no idea what services are available."
Gunjan's work as a family leader blossomed during COVID, because so many activities became virtual. "I don't drive and I spend a lot of hours with Ajay's needs, so it was challenging for me to come back and forth to Holland Bloorview," she says. "During COVID I reviewed documents each week from Holland Bloorview for health literacy, and I gave input as a rapid response family leader." 
She also participated in the hospital's solution-focused coaching course online.
Today, Ajay is in Grade 9 in an autism program. He loves comedy shows like Annoying Orange and joke books and building Lego structures. "He's a happy, lovely boy who inspires me with a lot of love," Gunjan says. 
Gunjan was involved in so many ways at Holland Bloorview that she received the 2022 Children's Healthcare Canada Award for Patient and Family Leadership.
Learn more about our family mentor program or reach out to familypartner@hollandbloorview.ca. Visit our new Family Support Network Facebook page. Like this story? Sign up for our monthly BLOOM e-letter. You'll get family stories and expert advice on raising children with disabilities; interviews with activists, clinicians and researchers; and disability news.