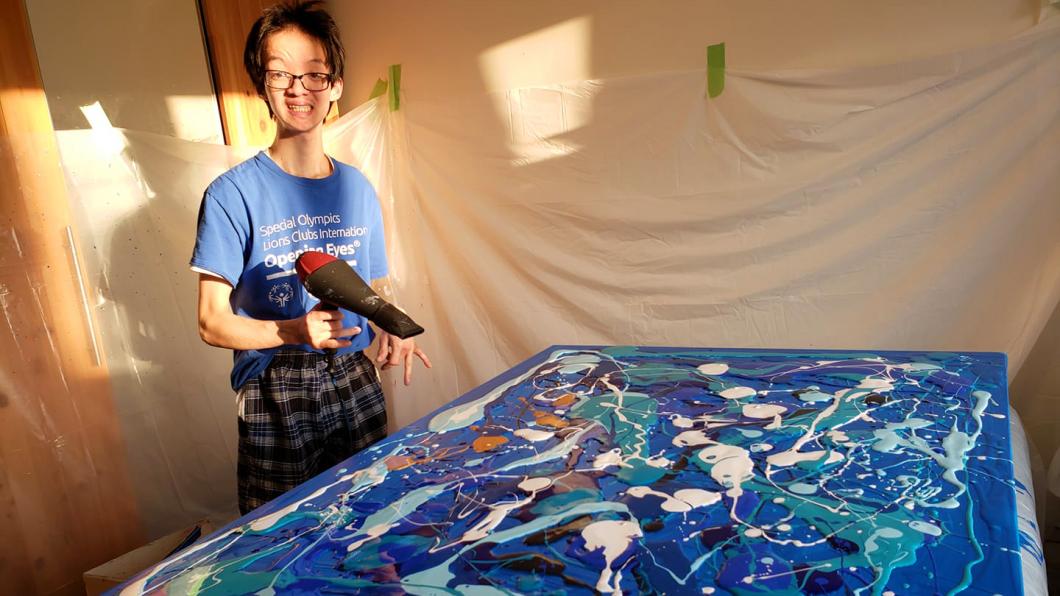 Autistic artist finds expression in colour
By Louise Kinross
​​​​Eddie Li loves the freedom of pouring different colours of acrylic paints on a canvas, then blowing them with a hairdryer to see what images emerge. The 20-year-old high school student is showing his work next month at the Toronto Outdoor Art Fair. He recently had to move out of his bedroom so that he could use his bed to complete a series of extra-large, commissioned paintings of the ocean. Eddie, who has autism, finds it easiest to express his ideas and emotions in abstract expressionist paintings. We spoke to Eddie and his mother Julie.
BLOOM: My favourite of your acrylic pours is called Corals. The colours are stunning and remind me of snorkelling on a trip to Panama. How do you come up with ideas for your paintings?
Julie Cheah: He normally names them after he's done. He chooses the colours first. The colours are what's going around in his mind. Often he will go for the reds and oranges and yellows and golds, and he likes all of the various shades of blues. Recently he's been wanting the green, I think due to the spring.
Eddie Li: The forest as well.
Julie Cheah: Nature gives him a feeling that he likes. He enjoys being out in nature and likes to come walking with me. I walk dogs for my clients every afternoon. 
Eddie Li: I like playing with the dogs.
Julie Cheah: He likes being out on the trails we go to at Sherwood Park. We also go to the Sunnybrook Park playing field and he likes the open spaces. 
Eddie Li: We found a golf ball and a nerf dart.
BLOOM: What do you most enjoy about painting?
Julie Cheah: He likes it when people enjoy his art and tell him where they're going to place it in their homes. He likes connecting with people. With the paints, Eddie likes putting lots of paint down and playing with it and experimenting with it. When he uses the hairdryer to blow the paint, he likes to see what is going to develop.
BLOOM: I went online and I saw one technique where you pour different colours into a cup, then flip the cup on the canvas and remove the cup. Is that how you do it?
Julie Cheah: He has done a flip cup before. But the recent ones, especially for the Toronto Outdoor Art Fair, were done with a Dutch pour style where you pour each colour from its bottle on the canvas and then use the blow dryer. He decides what colours he wants to use and the different types of paint. There are metallic ones and others that have different effects. 
BLOOM: What's most challenging about this kind of painting?
Julie Cheah: From my observation, quite often it's getting the right quantity of paint on the canvas. You have to ensure you don't get too much or it pools and it will crack. If we get bubbles, after blow-drying it Eddie runs through it with a blow torch to pop the bubbles. It's the kind of torch that a chef uses. It's a very messy process.
BLOOM: I understand you were part of one of Holland Bloorview's employment participation programs. What did you learn that was useful?
Julie Cheah: It taught him resume writing and interview skills. He would actually like to work in a shop or environment where there are people. He really enjoyed his co-op placement at Canadian Tire, because he likes the social environment. The art will probably be a part-time thing in the future, as he'd like to have other activities as well.
BLOOM: Does autism allow you to approach art in a unique way?
Julie Cheah: I think he sees things very differently. Some of the colours he uses reflect his mood. Doing abstract art gives him the freedom to do as he pleases. He's taken art lessons from Julie McMeekin at the ArteMbassy Gallery School since he was in middle school. She's taught him different styles and helped him develop his sense of colour. He also enjoys mixed media, making collages with all sorts of materials.
BLOOM: Eddie, what have you used the money you make selling your art for? Have you bought anything special?
Eddie Li: I bought a remote control car. 
Julie Cheah: It's a remote control monster truck that's about a foot long. He takes it to the park.
You can read a bio of Eddie and view some of his art here at the Toronto Outdoor Art Fair. Or visit Eddie's website. Below is Eddie's piece called Corals, which was referenced above.