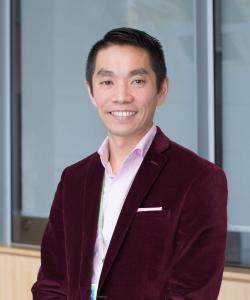 Stewart Wong
Vice-President, Communications, Marketing and Advocacy
An experienced senior communications professional and charitable health sector leader, Stewart brings a wealth of experience in marketing, communications and advocacy, a passion for serving clients and families, and an excitement for delivering on the Holland Bloorview vision of a world of possibility for kids with disability.
Stewart has over 14 years of marketing, communications, fundraising and strategic planning experience in the charitable health sector. Prior to joining Holland Bloorview, he served as vice president of communications and public affairs for The Arthritis Society where he oversaw the launch of major awareness and advocacy initiatives, the modernization of the website, the development of social media channels and the growth of the Society's media relations program. He brings significant skill in leading teams using collaborative processes to advance organizational growth.
Prior to The Arthritis Society, Stewart spent 11 years at The Multiple Sclerosis Society of Canada with leadership responsibilities related to crisis communications, strategic planning, capital campaign marketing and brand management.
On a volunteer basis, Stewart serves as the vice chair of the GTA Association of Fundraising Professionals government relations committee. He has also volunteered with Imagine Canada as a peer reviewer for the Standards Program and served as a press operations supervisor at the 2015 Pan Am Games.