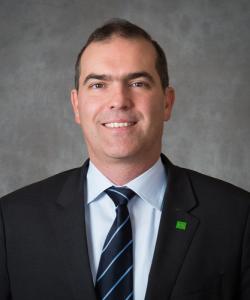 Steve Banquier
Managing Director and Head, Prime Brokerage TD Securities
Steve Banquier is Managing Director and Head, Prime Brokerage, TD Securities.  He is responsible for the oversight, relationship management, business and product development, and governance of a team of traders, relationship managers and business development professionals.
Prior to joining TD Securities in 2011, Steve's most recent role was Executive Director, Head of Prime Brokerage Operations with CIBC World Markets, and previously gained significant global experience with Deutsche Bank in progressively senior roles based in London, New York and Hong Kong.
Steve co-chaired the 2016 and 2017 Women in Capital Markets Return to Bay Street program, and in 2016 was the winner of the Women in Capital Markets Male Leadership Award.  Previously Steve was TD Securities' United Way Campaign Senior Ambassador and has also been a mentor with the Toronto Region Immigrant Employment Council (TRIEC).  He is a regular guest lecturer at the University of Toronto's Rotman School of Business and Queen's Smith School of Business. Additionally, Steve established the TD Securities Alternative Investment Award which honours the top Masters in Finance student in the Queen's Smith School of Business Hedge Fund course.
Steve currently serves on Executive Board of AIMA Canada and is member of the OSC's Investment Funds Technical Advisory Committee.  He was previously a member of the IIROC Capital Formula Sub-Committee.
Steve holds a Graduate Diploma in World Politics from the London School of Economics, and a Bachelor of Arts degree from Bishops University.
Based in Toronto with his wife and 3 children, Steve first learned about Holland Bloorview while his youngest son was a patient who benefited from the hospital's great facilities and staff.