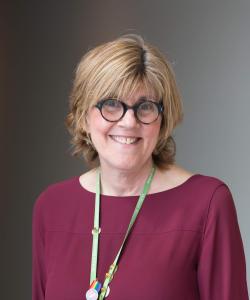 Dr. Golda Milo-Manson
Vice-President, Medicine and Academic Affairs
Dr. Golda Milo-Manson is the Vice-President Medicine & Academic Affairs at Holland Bloorview Kids Rehabilitation Hospital, a role she has held for 20 years. She is also an Associate Professor in the Department of Pediatrics at the University of Toronto. She received her medical degree and graduate degree (MHSc) from McMaster University in Hamilton, Ontario. She completed her pediatric training and subspecialty in developmental pediatrics at University of Toronto and Hospital for Sick Children.
Dr. Milo-Manson has worked in pediatric rehabilitation for more than 20 years, largely with children and youth with physical disabilities as well as complex sleep disorders.  She has been a member of the American Academy of Cerebral Palsy for most of her academic career and is currently serving on the Executive Board of Directors. She has served as a local cohost for two American Academy of Developmental Medicine annual meetings held in Toronto.
Dr. Milo-Manson chaired the Royal College of Physicians and Surgeons of Canada subspecialty committee in Developmental Pediatrics for over six years that set national standards for training in the field for Canada as well as the introduction of a national specialty examination.  She was previously the Program Director for the Developmental Pediatric subspecialty residency program at the University of Toronto. She currently sit on the Royal College of Physicians & Surgeons Examination Committee for Developmental Paediatrics.  In addition she has chaired a national conference, The Child Development Update for over 15 years held in Toronto.
---
Media Expertise
education, medicine, pediatrics