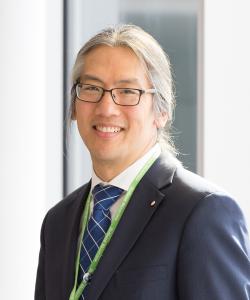 Tom Chau
Senior Scientist, Bloorview Research Institute
Tom Chau, PhD, PEng, is a Senior Scientist at Bloorview Research Institute, Holland Bloorview Kids Rehabilitation Hospital and a full Professor in the Institute of Biomaterials and Biomedical Engineering at the University of Toronto.

Tom leads the PRISM Lab in the Bloorview Research Institute, where his recent research has focused on the investigation of novel access pathways for children and youth with severe physical impairments. He has published over 190 refereed scientific articles and holds 5 patents. His lab has developed numerous innovations aimed at maximizing possibilities for children. His research has been featured over 150 times in national and international media including CNN, Time Magazine, ITN (UK), Discovery Channel, and Report on Business.

Tom holds a doctorate from the University of Waterloo in the area of pattern analysis and machine intelligence and received post-doctoral training in pediatric rehabilitation engineering as a Duncan Gordon Fellow. From 2004-2014, he held a Canada Research Chair in Pediatric Rehabilitation Engineering and is currently the Raymond Chang Foundation Chair in Access Innovations..

Tom's contributions to pediatric rehabilitation have been recognized with accolades such as a the Queen Elizabeth II Diamond Jubilee Medal (2012), Dr. Jonas Salk Award (2016), Meritorious Service Cross (2017), Order of Ontario (2018) and the Governor General's Innovation Award (2018).
Tom is the former Vice President of Research at Holland Bloorview Kids Rehabilitation Hospital and Director of the Bloorview Institute of Research for two consecutive terms from 2012 to 2022.