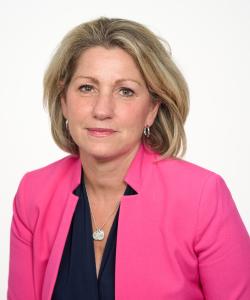 Irene Andress
Vice-President, Programs & Services and Chief Nursing Executive (CNE)
Irene Andress serves as vice-president, programs & services and chief nursing executive.
In October 2020, Irene joined Holland Bloorview following a 35-year career in healthcare, 30 of which were at Michael Garron Hospital. She held several senior leadership positions there, including vice-president, patient experience, health professions & chief nursing executive.
Throughout her career, Irene has consistently shown a passionate commitment to patients and families. She is an ardent voice for nursing and healthcare disciplines, and has elevated practice standards locally and at the provincial level. She is a respected, trusted and dynamic leader with experience in the emergency department, maternal newborn child, organizational development and medicine.
As vice-president, programs & services and chief nursing executive at Holland Bloorview, Irene advances integrated programs and services, supports best quality care for children and families and empowers integrated inter-professional teams through strength-based approaches. She also builds upon her record of nurturing the next generation of healthcare leaders, imparting wisdom and a dedication to compassionate care, quality and safety, data- and evidence-informed decision-making and nursing excellence.
Irene obtained a bachelor of science in Nursing from Ryerson University and a master of nursing (administration) from the University of Toronto.
---
Media Expertise
nursing/interprofessional practice, workplace wellness, health human resource sustainability