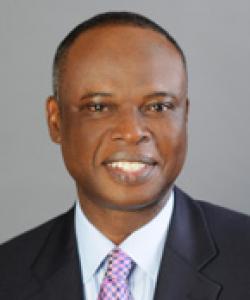 William Onuwa
Board Chair
William Onuwa is RBC's Chief Audit Executive. In this role he is accountable for providing independent, objective risk assessment and evaluation of the adequacy and effectiveness of risk management practices, internal control and corporate governance processes for all areas of RBC.
Prior to this role he was SVP & Global Head of Wealth Management, Insurance & RBC Georgia risk management groups at RBC which included the Actuarial group as well.
He has global experience in financial services and has lived and worked in England, USA and Caribbean in the financial services industry, before joining RBC in Canada.
Prior to joining RBC, William was employed with General Electric (GE) where he held various executive leadership positions in the USA and UK.
William holds a Doctorate degree in Business Administration from the University of Surrey England, an MBA in Finance and various other professional designations in finance and insurance management.
He also holds the ICD.D designation from the Directors Education Program (DEP) at Rotman Business School, University of Toronto.
He recently received the 2015 Transformation Award for Professional Excellence.
He also serves as Chair of the Board of Yonge Street Mission in Toronto and is a member of the RBC Diversity Leadership Council Meeting chaired by the President and Chief Executive Officer.
William joined the Holland Bloorview Board in June 2013. He is the newly appointed Chair of the Board and is cross-appointed to the Holland Bloorview Kids Rehabilitation Hospital Foundation Board.