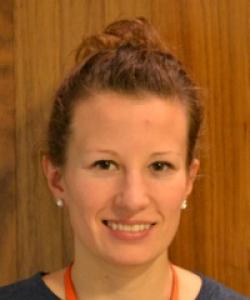 Karolina Urban
Graduate Student
PhD Candidate
Rehabilitation Sciences Institute
Advisor: Dr. Tom Chau
Education & Training
Karolina received her Bachelor's degree in the Faculty of Physical Health and Education with a minor in psychology from the University of Toronto. She then completed her MSc in Neurosciences from the University of Calgary while exploring brain function and communication using functional Near Infrared Spectroscopy (fNIRS) in pediatric concussion.
Research Interests
Karolina is currently a PhD student in the Rehabilitation Sciences Institute and collaborative program in Neurosciences at the University of Toronto. As she is also a member of the Concussion Centre team, Karolina's research is focused on using various imaging techniques to explore brain alterations following pediatric concussion, including fNIRS and Magnetic Resonance Imaging (MRI).
Other Interests
Karolina's passion for research came from her own experiences with concussion while playing for the University of Toronto Varsity Women's ice hockey team and in the Canadian Women's Hockey League. Karolina has also played at an international level with the Kazakhstan National Hockey team. More recently, Karolina earned a gold medal for Canada at the 2015 Ball Hockey World Championships in Zug, Switzerland.