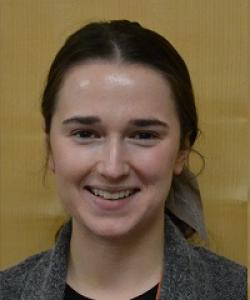 Corinna Smith
Graduate Student
MASc Candidate
Biomedical Engineering, University of Toronto
Advisor: Dr. Tom Chau
Education
Corinna received her Bachelor of Applied Science in Biomedical Engineering from the University of Waterloo. Throughout her undergraduate degree, Corinna completed a number of diverse co-operative education placements. These included catalysis research at Harvard University, modeling blinking at the Materials Interactions with Biological Systems Lab at Waterloo, manufacturing engineering at Synaptive Medical Inc, and the Ward Summer student program here at Holland Bloorview.
Research Interests
Corinna is interested in using electrical activity measured from the brain to determine when someone is preparing to speak. Corinna is using signal processing and machine learning to developing a brain-computer interface that can detect the intention to respond in adolescents. Such a BCI may promote inclusion of individuals with complex communication needs in the fast-paced turn-taking of spoken conversations.
Other Interests
Corinna enjoys travelling, exploring art galleries and hiking. In her free time, she enjoys going to spin classes and eating at new restaurants.