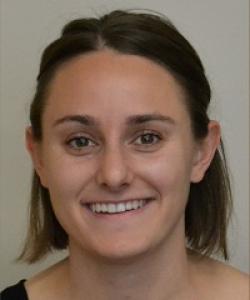 Christine Horner
Graduate Student
MASc Candidate
Institute of Biomaterials and Biomedical Engineering, University of Toronto
Advisor: Dr. Tom Chau
Education
Christine received both her Bachelor of Engineering in Electrical & Biomedical Engineering and Honours Bachelor of Science from McMaster University. During her undergraduate studies, Christine gained valuable interdisciplinary experience throughout her work placements and project design courses. She worked at a medical start-up company called Future Health Services, Honda Manufacturing of Canada in the Welding Department, and was a Ward Summer Research Student at Holland Bloorview. She is currently working at Myant as an R&D Biomedical Engineer as part of her master's work placement.  
Research
Christine is interested in Brain-Computer Interfaces (BCIs) which decode neurophysiological signals to facilitate environmental interactions. Christine is exploring a novel approach for children with complex communication needs to interact with their surroundings that can be more intuitive and less mentally demanding than current methods. She is measuring brain activity using a non-invasive neuroimaging technique called fNIRS, using signal processing and machine learning techniques to explore asynchronous control and designing a data collection protocol to foster self-regulation.
Other Interests
In her free time, Christine enjoys synchronized swimming. She is the lead coach for the University of Toronto's team and competed as a swimmer while she was at McMaster. Christine also enjoys completing Spartan Races, playing board games and going on bike rides.