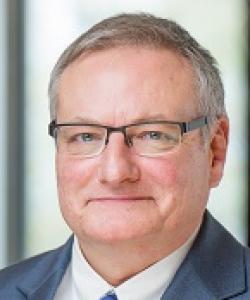 Bohodar Rubashewsky
Vice-President, People, Corporate Innovation and Services
Bohodar Rubashewsky joined Holland Bloorview Kids Rehabilitation Hospital as vice president, people, corporate innovation and services in November 2018.
Bohodar has been a public servant for over 30 years and held senior executive positions in six Ontario Government ministries. He has also worked in Ontario's Ministry of Finance and Cabinet Office, as well as with the Government of Canada.
Immediately prior to joining Holland Bloorview, Bohodar served as assistant deputy minister, corporate management and services at the Ontario Ministries of Education and Training, Colleges and Universities, responsible for financial planning and controllership, internal audit, legal services, freedom of information / protection of privacy, human resources and facilities planning. He has also served as the chief administrative officer for the Ministries of Community and Social Services, Children and Youth Services and Energy and Infrastructure.
As the Ministry of Transportation's assistant deputy minister of road user safety, Bohodar led a province-wide division of over 1,000 staff dedicated to reducing deaths and injuries on Ontario's roads. He also led the Ministry of Community and Social Services' Family Responsibility Office, which helps nearly 380,000 clients every year by collecting, distributing and enforcing court-ordered child and spousal support, and served as the ministry's interim deputy minister for almost a year.
In 2009-10, Bohodar was seconded to the Ontario Lottery and Gaming (OLG) Corporation as its interim chief executive officer under highly exceptional circumstances, following the resignation of its Board of Directors and dismissal of its CEO. He enhanced and stabilized the agency's relationship with government, and made significant strides in restoring both the public's confidence in OLG and OLG's confidence in itself.
Bohodar holds a Master of Arts in Public Administration from Carleton University and has an Honours Bachelor of Arts in Political Science from McMaster University.